It's the jackpot show you've been waiting for – Booming Circus!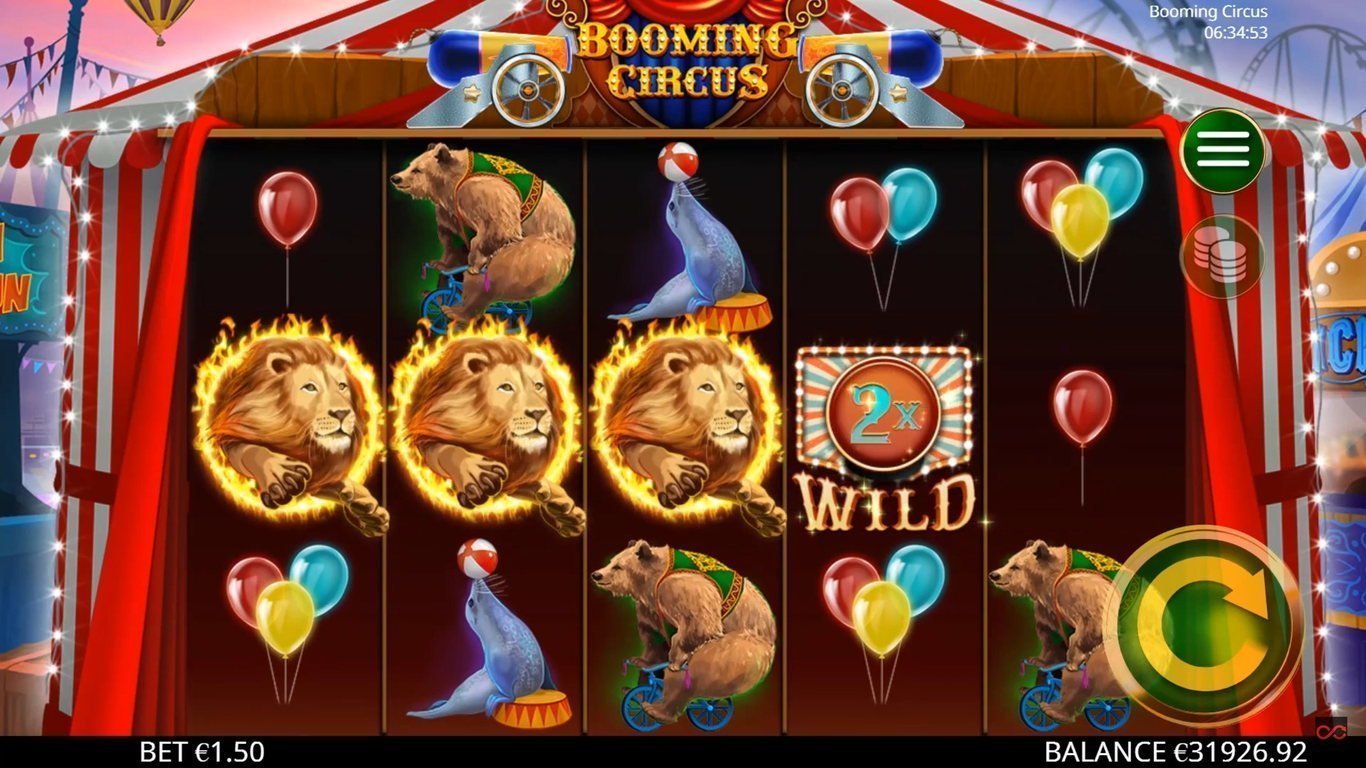 Pros
Crisp graphics
Fun to play
Numerous jackpot opportunities
We've noticed that Booming Games likes naming slots after itself, and that's a choice we are here for! That's why we chose Booming Circus as one of our slots to review – who wouldn't want to visit a circus promising a crazy good time? It's right there in the name. Boom!
If you've ever wanted to just chuck it all in and run away to join the circus, now's your chance – and who knows, you could pick up a few jackpots at the same time. In addition to a circus-themed background, Booming Circus brings in all the familiar circus animals too, from lions to bears to seals, all busy riding bikes, playing with balls, or tempting fate by jumping through rings of fire. (And they're all wonderfully cared for as well, because this is definitely that type of circus.)
So what kind of excitement can you look forward to at this circus of jackpots? To start with, 5 reels, 15 paylines, and a top payout of 10,000x, along with multipliers, free spins and wild reels too. So let's get in the ring and step right up to the greatest show on earth!
Of course to get into the circus you'll need to buy a ticket first – or in this case, place your bets. In this circus, all 15 paylines will be activated with every spin, but you can still choose a bet size to suit your bankroll. Make your selection anywhere from $0.15 to $150 per spin (so, a max bet of $10 per line) and you'll have a front row seat to all the circus excitement!
The lights are dimmed, the curtain is raised, and it's time for action! What does Booming Circus have for its first act? A random wild reel, which will activate randomly during a gaming session on either reels 2 or 4. Once the reel turns wild, it'll substitute for other symbols and help complete winning combinations along the way – definitely worth a round of applause!
Next up, it's the multiplying wilds, and have they got a treat for you! Look out for 2x and 3x multipliers in the base game, and 7x and 10x multipliers during the free spins round too. It's non-stop adrenaline all the way, and it's more than deserving of another round of applause.
Booming Circus has saved the best for last – the free spins round, that'll activate as soon as the letters C L O W N appear on the reels in order. Once they do, there's no time to clown around – there's only time to roll the reels on your 7 free spins! With huge multipliers to look forward to in this round, your 7 free spins could win you huge potential payouts – and if that's not worth a massive standing ovation, we don't know what is!
The circus is in town and so are the winnings! Get your tickets, get your popcorn, and get those reels spinning. It's a winning extravaganza, and everyone's invited!
Happy Spinning 🙂