Jane's Farm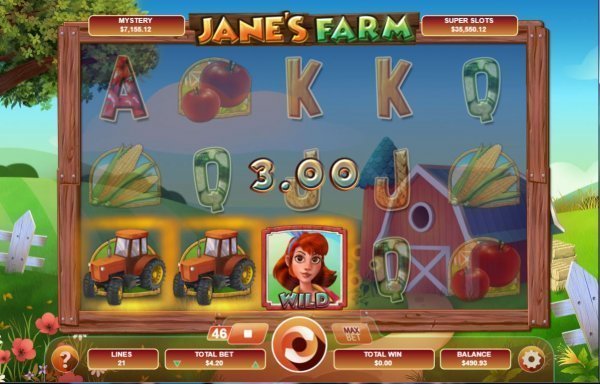 Sure country visits and petting zoos are off limits right now, but you can still enjoy all the farmyard fun you like with Arrow's Edge and Jane's Farm. Combining all the restfulness of rural life with all the energy of online slots play, it's a way for you to indulge your love of animals, and your love of winning too!
Get started on this 5 reel, 21 payline slot, and you'll encounter pigs, cows and chickens on the reels, along with tractors and even Jane herself if you're lucky. Keep an eye out for wilds, free spins, multipliers and even progressives along the way, and you'll have a crop of fantastic winnings to look forward to!
Place your bets, get the reels spinning, and as soon as you find 3 cow symbols, you'll instantly trigger the free spins bonus feature, with three games to choose from:
10 spins + a 3x multiplier
15 spins + a 2x multiplier
30 spins + a 1x multiplier
Which is better – more spins or a bigger multiplier? You'll have to choose for yourself and find out! That's not all you'll have to look forward to during your free spins round however. Collect 3 milk bottles during the round and you'll get 3 extra spins – or collect 6 for 3 extra spins PLUS a 3x multiplier too. Looks like drinking milk definitely pays off at Jane's Farm!
We're not done yet – because there's a clucking good time to be had with the chicken coop bonus! Just find three bonus chicken symbols to trigger this feature, and you'll be playing for thrilling cash prizes. With three chickens in the coop, you'll be given three eggs to drop, which you'll be able to do by choosing one of the chickens. Watch as the eggs fall into one of five holes, each with its own cash prize attached – plus if the eggs bump into a 1+ or 2+ power up along the way, you'll be given more eggs to play with, and the chance to accumulate more winnings too. Even better, you'll also have the chance to win a free spins power up, randomly assigning you one of the three free spins games to play after the bonus game is over.
Finally, there are the progressive jackpots to look forward to – the Mystery Jackpot of $10,000 and the Super Slots Jackpot of up to $45,000. Keep playing Jane's Farm and not only could you hit the top payout of 5,000x, you might be lucky enough to take home one of the random progressives too! So forget about cabin fever – pay a visit to Jane's Farm right from your laptop or mobile instead, and look forward to fun times and huge winning potential!