More of the world's best casino restaurants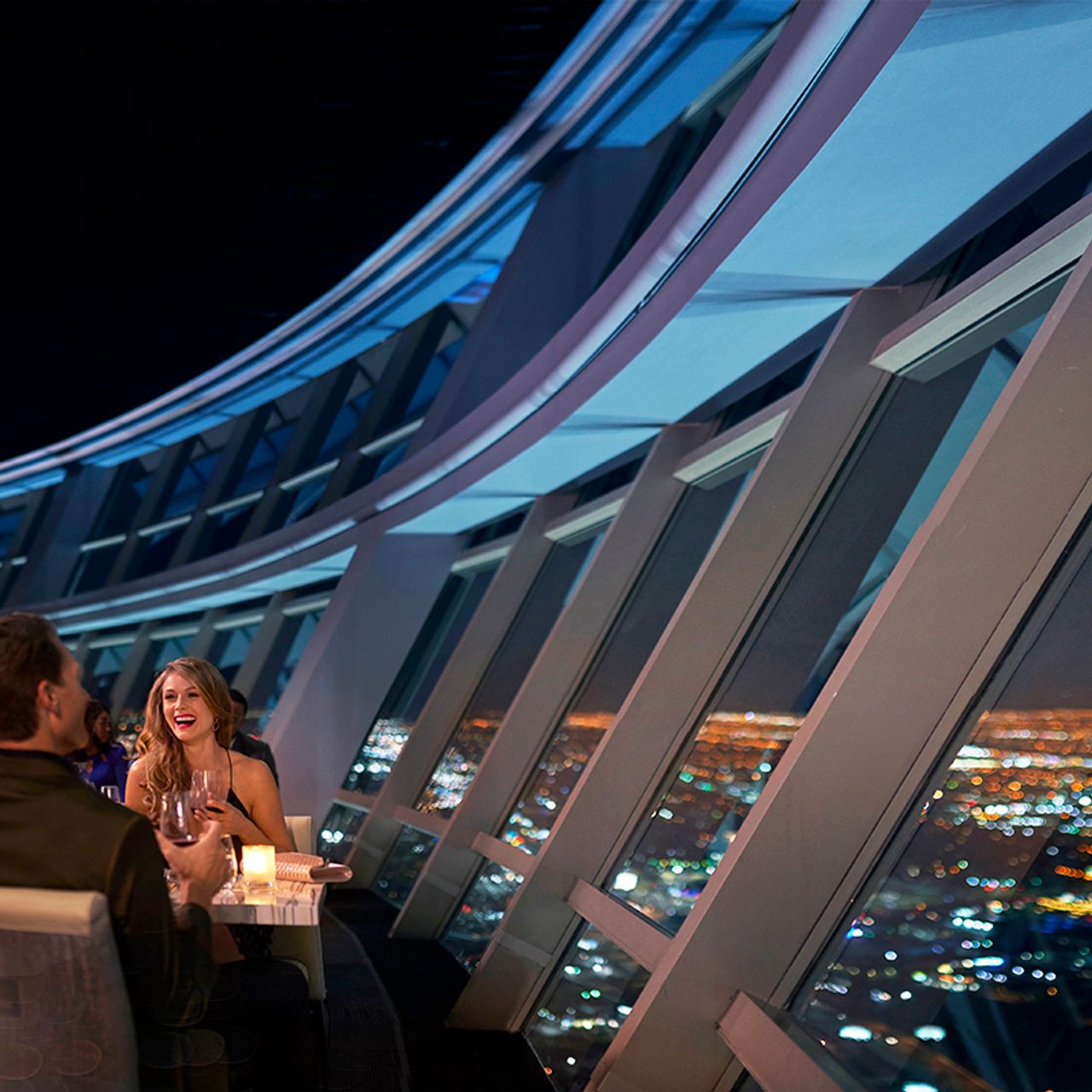 You pleaded with us for more casino restaurant deliciousness, so here we are coming through for you! Take a look at more of the world's top casino resort eateries, and hit the jackpot with one of their signature meals yourself!
Top of the World, The Strat, Las Vegas, US
The restaurant's called 'Top of the World' and given that it towers an unbelievable 840 feet above Vegas itself, it's a name that's well-chosen. So if you'd like dinner and a view, you've come to exactly the right place.
Forming part of The Strat Hotel & Casino, the Top of the World restaurant doesn't just sit above the city, it revolves around it too, turning a full 360 degrees every 80 minutes and giving you a panoramic look at one of the world's most electrifying cities. Of course, there's also the food to consider, and given that this fine dining restaurant is acclaimed for both its food and wine, including delicacies like seafood, pasta and steak, it's worth making a reservation and enjoying all the delights it has to offer. In fact, one bite at Top of the World, and you may never come back down to earth again!
Wing Lei Palace, Wynn Palace, Macau, China
In the mood for Cantonese food? Then we've got just the place for you – Wing Lei Palace in Macau. Of course this isn't your usual weekend Chinese takeaway. Wing Lei Palace is all about fine dining, which means you'll be treated to an experience that's as much as feast for the eyes as it is for the palate.
Book your spot at this one-of-a-kind venue, and you'll even be able to reserve a private room for yourself, including an en suite bathroom for your personal use, and a stunning terrace as well, right on the edge of Wynn Palace's unique 'Performance Lake'. You'll also have glorious fountains to watch, and a gorgeous garden to walk through, redolent with the aroma of thousands of fragrant blooms.
Don't forget about the food though – although, how could you with mouthwatering dishes like Peking duck, roast goose, and a variety of dim sum to choose from. In fact, who needs to even gamble in Macau at all with experiences like this to look forward to? Come for the gaming, stay for the gastronomic delights!
Buddha-Bar, Place du Casino, Monte Carlo, Monaco
We're staying with the Asian theme, but this time moving to Monte Carlo's Buddha-Bar – a restaurant with a more casual lounge-type atmosphere, and absolutely delectable food. Whether you're more a fan of Japanese or Thai, you'll have both to choose from, including exceptional sushi and sashimi, along with a variety of other amazing Asian dishes.
What's more, with a resident DJ, Buddha-Bar has an atmosphere all its own, crackling with energy and making every evening a thrilling one. Between the food, the ambience, and the setting, you'll find every Buddha-Bar experience time very well spent!
Café Martinique, Atlantis, The Bahamas
There's nothing like an exotic island holiday, and the Bahamas always delivers on every level. And one of the best places to wind down and enjoy life just happens to be Atlantis Paradise Island, an ocean-themed resort including 62 hectares of water features, from lagoons and pools to river rides and water slides too.
Of course, when you're done with your swimming and gambling, there's still plenty to enjoy in the form of gourmet wonders as well, like those on offer at Café Martinique. Presided over by head chef Jean-Georges Vongerichten, Café Martinique offers the ultimate in fine dining delights, with a heady fusion of local cuisine and refined French flavours. Look out for sumptuous seafood and delicious sauces, and prepare to give your tastebuds a gourmet experience unlike any other!
Waku Ghin, Marina Bay Sands, Singapore
Make sure you have a reservation for this Singaporean gem, as with only 25 seats in Waku Ghin, you don't want to tempt fate by asking for a table as a walk-in. What you do want to do though is savour every bite that comes your way, as with two Michelin stars, this casino restaurant is serving up perfection on a plate.
As part of the world's most expensive building, Waku Ghin is truly a gastronomic delight, with a unique Euro-Japanese menu that fuses both French and East Asian cooking. The plating on its own is a work of art, so we can only imagine how delicious the flavours are too. In a building worth $4.7 billion (yes, you read that correctly) the restaurant needs to be equal to the task of attracting customers through the doors – but when you're as exceptional an eatery as Waku Ghin, that's no problem at all. Book your seat and get ready to take your senses on a gourmet adventure!
Rockpool Bar & Grill, Crown Casino, Melbourne
Looking for an unforgettable casino restaurant experience? Then why not head off to the biggest casino in the southern hemisphere – the Crown Casino in Melbourne, Australia. With its open-plan kitchen and sprawling interior, the Rockpool Bar & Grill is a dining event that everyone should enjoy at least once.
Given its focus on sourcing only the finest local ingredients, every dish that comes out of the Rockpool kitchen is perfectly balanced and utterly delicious from start to finish. Meat lovers will have their fill of the best cuts of steak from wagyu to ribeye, while there are plenty of other seafood, pasta and dessert options to satisfy every palate and preference.
Sure, Melbourne might be a little far to go for a meal, but throw in some gaming at the Crown Casino either before or after, and it'll be worth the trip. Come hungry and make sure whatever you wear has an elasticated waist – you'll need as much room as possible to sample all of Rockpool's delicacies!
We don't know about you, but our mouths are watering just reading about the world's best casino restaurants, let alone trying them for ourselves in real life. So if you're thinking about taking a trip anytime soon, make sure one or more of these resorts are on your list, and make a reservation at one of their restaurants while you're at it. You can thank us later – and if you bring us a doggy bag when you're done, we'll love you forever!