No tricks – only treats with the Halloweenies Slot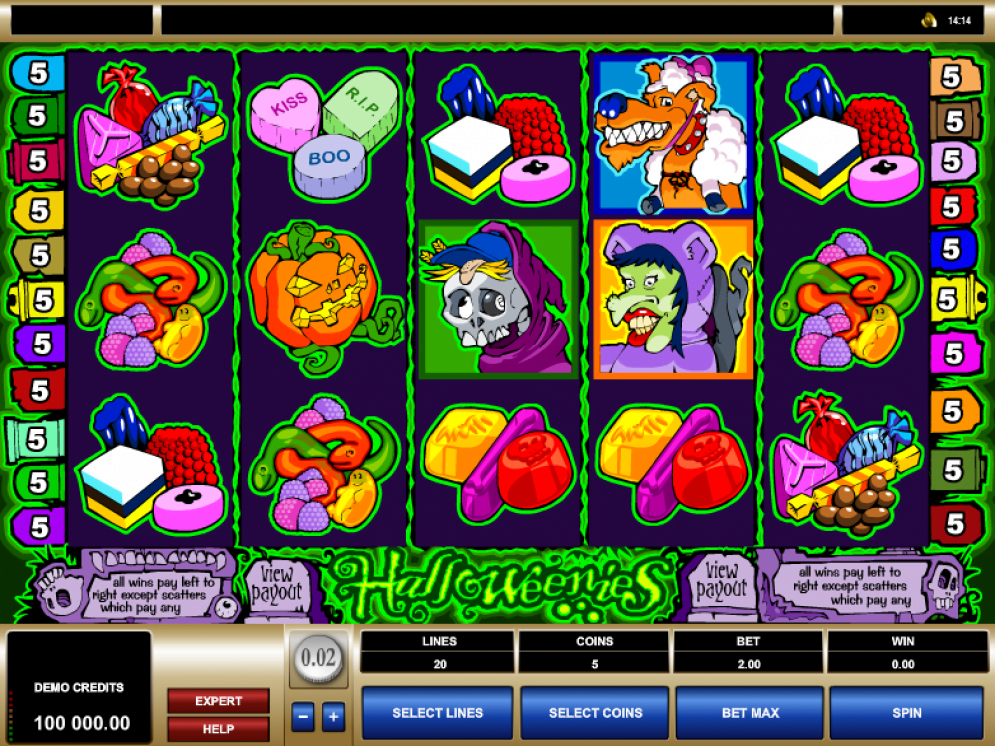 Ok ok, so this isn't exactly a scary slot – but with its trick or treat theme, it's definitely a delicious one! Get ready for the tastiest part of All Hallows Eve with Halloweenies – the themed slot that's sweeter than you think!
It's a candy-coated adventure like none other, and it's packed with delights like 5 reels, 20 paylines, scatters and a wild symbol too – everything you need to make Halloween delicious in the most winning way possible. Brought to you by the masterminds at Microgaming, Halloweenies is all about sweeties – and a pink bunny rabbit too. Ready to indulge your sweet tooth and spin for sugary good jackpots? Then let's get started!
As you'll soon find, the hardest part of Halloweenies isn't playing the game – it's stopping yourself from licking the screen. Which, considering that the game symbols include liquorice, choccies, wine gums and gummy snakes, is a lot harder than it sounds. Perhaps have your own stash of sweets on hand to satisfy your cravings, just in case.
Of course this is Halloween, and you can't have treats without having a few tricks too. So if you see Frankenstein's monster dressed up as a nurse, a zombie trying to pass itself off as a sheep, or a witch in bear's clothing, that's what that is. Bunch of muppets – who are they trying to fool?
As it turns out though, these tricks bring treats all their own when five appear on a payline as a winning combo. Get five sweeties in a row and you'll be rewarded with multipliers from 60x to 100x; five skeletons will pay out 200x; five 'nurses' will net you 300x, five witches will cast a spell of 450x, and the zombie sheep effort will pay out a massive 900x! Not baa-aad right? Sorry, we couldn't resist…
Talking about resisting, if your bankroll's looking a little low on cash, don't get scared – you can still play the Halloweenies minimum bet of $0.01. Or if you're feeling braver, you can increase your bet up to the max of $50.00 per spin – it all depends on how healthy your bankroll's looking, and the personal limits you've set yourself.
Looking for some horrifyingly good bonus action? Then look out for the pumpkin and pink bunny scatters that'll bring some thrills your way. Get five pink bunnies on the reels and you'll win a 100x multiplier – and even as few as three bunnies will help trigger the free spins round, packed with 13 free spins and a 3x multiplier too.
There's more to look over your shoulder for with the pumpkin scatter – that's because three of these ghoulish gourds will trigger the Pick a Pumpkin bonus, while a full five of them will bring you a shockingly awesome 3,500x multiplier! And don't forget about the monster wilds either, completing winning combos and paying out a terrifying 13,000x for five wilds on a payline!
So if you're done with 2020's tricks and are more than ready for a steady stream of treats, prepare yourself for Halloweenies. It's syrupy, it's sweet, and it's stashed full of the yummiest Halloween payouts you'll find!
Happy Spinning 🙂