Online slot review: 10,000 Wishes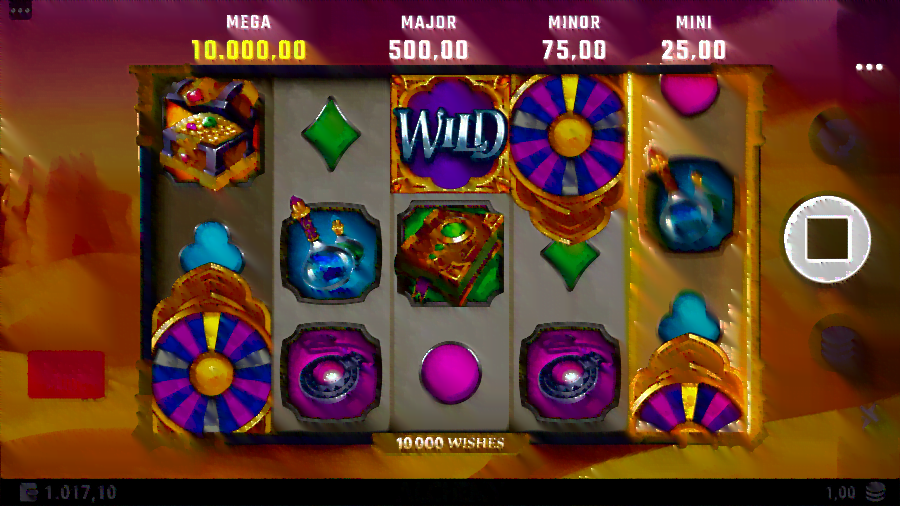 You know how when you talk about what you would do with 3 wishes, there's always someone who says they would wish for more wishes? Well, now you're that someone, except you're not getting 3 more wishes, you're getting 10,000! That's because Microgaming's brand-new slot, 10,000 Wishes is here, and it's set to make all your dreams come true!
Developed by Alchemy Gaming for Microgaming, 10,000 Wishes is a spin-the-wheel game that'll have you on the edge of your seat. Will you get everything you've ever wished for? Only time, and the wheel, will tell! Designed to fit a Middle Eastern theme, similar to that of Aladdin, 10,000 Wishes is set among the shifting sands of the desert, and is filled with magical icons from treasure chests and potion bottles to pendants and spell books too. You'll also find a wheel and a wild symbol among these as well, exactly the kind of feature icons you'll want to see appear on the reels. Make a wish and who knows – they just might materialize before your very eyes!
How will 10,000 Wishes turn your dreams into reality? There's no genie and no lamp here – instead you'll have 10 paylines, 5 reels and an RTP of 96.27%, all working together to help you reach the top payout of 10,000x, with wilds, scatters, mega symbols, Power Spins and a Jackpot Wheel bonus too! Abracadabra, let's start your winning journey right now with a simple bet – anything from $0.10 up to $25, depending on how far your budget will stretch. And if you're able to spend 25x your bet,
you'll be able to trigger guaranteed Power Spins too – more excitement and more winning for you! Something else that'll bring you more winnings is the wild symbol – not only will it act as a substitute for all symbols other than the scatter, it'll help complete winning combinations, and pay out up to 100x when 5 appear on a payline as well. It's the gift that keeps on giving!
Remember the Power Spins feature we mentioned? Well, get ready to power up your wishes, because when you find at least 3 Power Wheel icons on the reels, you'll get one Power Spin to play, with a single 3×3 mega symbol on the middle reels and random top symbols on the first and last reels. Plus as we mentioned, you can buy your way into the Power Spins mode too, so if you're really looking to make your wishes of luxury come true, there's always a shortcut you can take.
10,000 Wishes isn't done dreaming up winning fantasies for you yet though – there's still the Power Wheel to come! Get a 3×3 scatter symbol on the middle reel of your Power Spin, and you'll trigger the Power Wheel, which will automatically start spinning for you. Keep your fingers crossed, because if it's your lucky day, you could lay claim to the Mini Jackpot (25x), Minor Jackpot (75x), Major Jackpot (500x) or even the Mega Jackpot, which could see you taking home 10,000x your original
bet! We'd take that over a genie in a lamp any day!
Ready to get your wishing on? Then you're ready for 10,000 Wishes and all the luck it could bring your way. Spin the reels and who knows – your wishes could soon be on their way to coming true!
Happy Spinning 🙂