Online slot review: 3 Clown Monty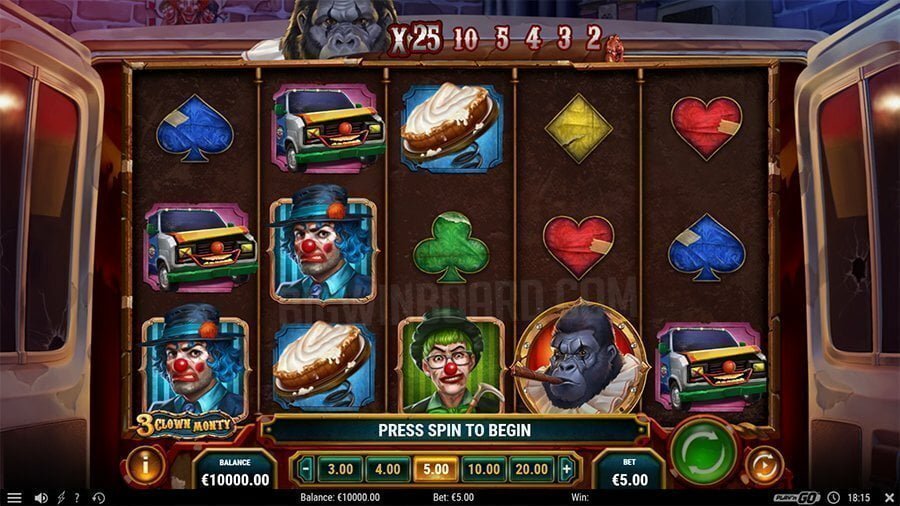 You've heard of Three-Card Monte, right? It's a game played with 3 face-down cards, and the object is to keep your eye on the 'money' card as the person running the game moves it in and out of position with the other two. Place your bet, find the money card, and you'll be a winner! Of course, it's finding the card that's the problem, as Three-Card Monte is a game most associated with con artists and tricksters.
But this isn't Three-Card Monty, and there's no trickery or sleight of hand here. This is 3 Clown Monty, and unless you happen to suffer from coulrophobia (that's a fear of clowns, just by the way) there's no anxiety to be found anywhere – just huge excitement and huge winning potential!
What else will you find in 3 Clown Monty? Well, three clowns, of course, along with a gorilla wild, and an electrifying circus theme. Step right up to the greatest show in town – we've got all the entertainment, and all the jackpots too!
Set to launch in June from the Play'n GO stable, 3 Clown Monty is circus slots play at its best, with a 5×3 reel format, 10 paylines, a 96.23% RTP, and jackpots worth up to an amazing 20,000x your original bet! Now that's a show we want to see go on and on and on! Want to get started? There's no ringmaster needed to get the action going – it's all up to you and how much you can afford to bet. If your bankroll's looking a little low, a $0.10 minimum bet is all you need to invest. On the other hand if your bankroll's looking fat and comfy, a max bet of $100 per spin could see you on your way to claiming the max payout! It all depends on what you're able to spend, and how well you manage your bankroll.
If you do have the funds to play, it'll be well worth your while to take 3 Clown Monty for a spin, especially with features like wilds, scatters, multipliers, free spins and a dealer's choice bonus to look forward to! First things first, look out for the gorilla wild – because with its ability to substitute for other symbols and create winning combos, it'll make you go wild with excitement!
Get 3 clown scatter symbols on the reels for even more circus surprises, and you'll trigger the free spins feature – or get 2, and you'll be able to play the dealer's choice bonus. Either you'll get random wilds on the reels, or you'll get the third scatter you need to take you to the free spins game – so no matter what happens, you'll have a winning chance handed to you.
Make your way to the free spins game and you'll have 5 to 9 spins for 3 scatters, 7 to 10 spins for 4 scatters, or 9 to 12 spins for 5 scatters, along with wild multipliers throughout. Find more scatters during your free spins round, and you'll have Monty spins to look forward to, with 4 to 9 spins being awarded for 2 to 5 scatters. Activate the Monty spins and you won't just get wild multipliers when they land on the wheels – they'll stay there as sticky symbols too!
It's all about the fun and all about the jackpots in 3 Clown Monty, so make sure you don't miss the show. Place your bets and that winning spotlight could soon be shining down on you!
Happy Spinning 🙂