Online slot review: Brawl at the Redcap Inn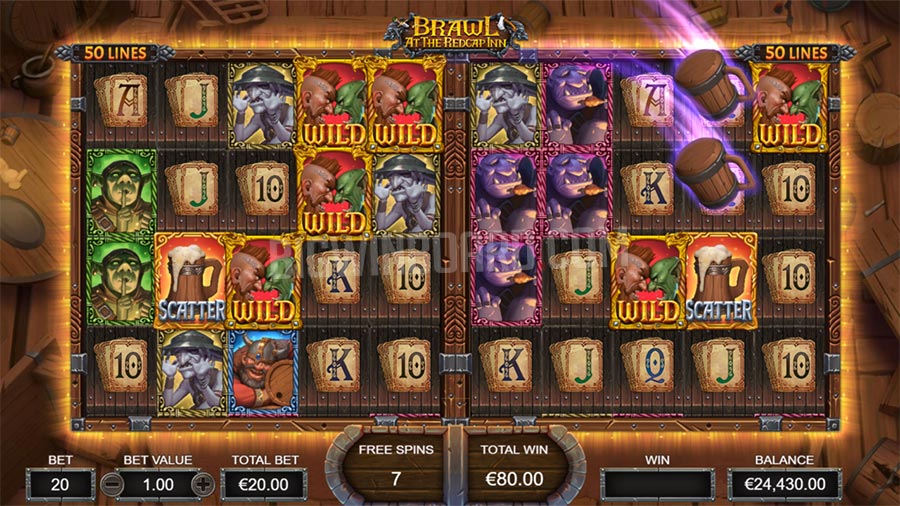 It's not often we spin the reels on a slot that's all about getting down and dirty in a tavern – but when it's a game with a medieval theme, what do you expect? Trust the forward-thinking minds at Yggdrasil to come up with something so innovative – and so hugely engaging too!
Developed by Dreamtech for Yggdrasil, Brawl at the Redacap Inn is all about skirmishes between the pub's patrons, and while it might not sound like a fun idea for a slot, you'd be surprised at just how hugely entertaining this original game can be!
Get ready because you're in for a wild ride with this fun-filled slot – from two sets of reels and 100 paylines between them, to symbols like goblins, trolls, dwarves and more. Look out for the mug of ale scatter and the wild brawling warrior, because when you find these, excitement is sure to follow!
What else can you expect from Brawl at the Recap Inn? Only an RTP of 96.04%, a top payout of 9,224x your original bet, or $368,960 in cash, plus multiplier wilds, a wild swap feature, free spins with sticky wilds, and stacked symbols too. No sucker punches here, just non-stop thrills and adrenaline-packed entertainment!
Want to join in the action? Then choose your bet size from $0.20 to $40 and let's get started! The first thing you'll notice about the game area is the two sets of reels side by side. They'll form their own winning combos independently of each other as you place your bets – however sometimes they'll interact with each other too, depending on which special feature is in play.
One good example of this is the wild swap mechanic. Get a wild symbol on both sets of reels at the same time, and the wild swap will replicate each wild on the other side, in the same place, at the same time. What's more, the feature will apply a 5x multiplier to the wilds too, giving you winnings that pack a real punch!
Only finding wilds on one side of the reels? No problem! They'll still pay out on their own regardless, with a 5x bonus if you find all 5 on one payline at the same time.
The real prize in this super slot though is the free spins feature – activate this and you'll get 10 free spins to play with. Not only that, any wilds you find during your free spins round will stay sticky for the duration, while all other features remain in play. So you could find stacked symbols and a wild swap, while maximizing your rewards with sticky wilds at the same time. Plus you'll be able to retrigger the free spins round while you're playing too, giving you even more spins, and more chances to win!
Brawl at the Recap Inn brings real originality to slots play, along with its fun medieval theme and exciting bonus features – and it's a game that's sure to capture your interest from the beginning of your gaming session till the end. Want in? Then place your bets and join the party – sheer exhilaration awaits!
Happy Spinning 🙂