Online slot review: Golden Gallina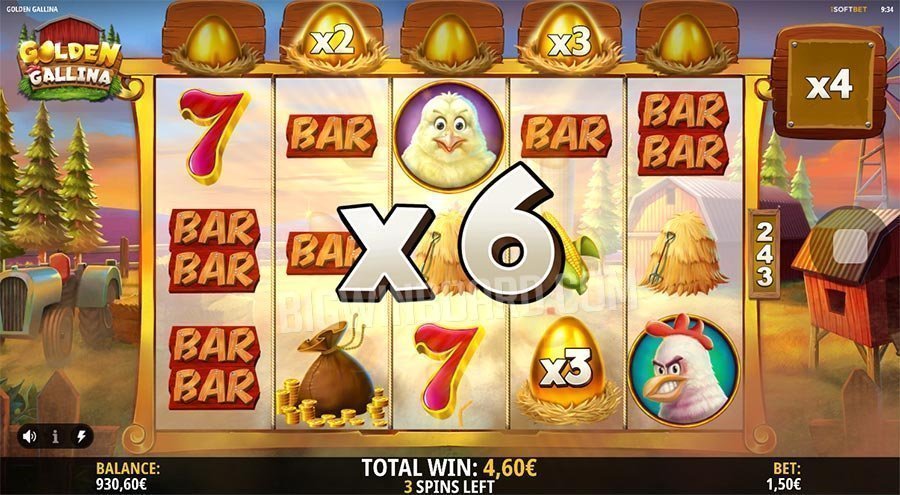 Are you ready for a clucking good time? Then don't be chicken – give Golden Gallina a go and you could soon be cracking open a freshly laid jackpot! New from iSoftBet, Golden Gallina (the Italian for hen) is all about chickens, hens, payouts, and fantastic fun too. So if you're a fan of chickens and of thrilling slots play, then get ready to place your bets – golden winnings could soon follow!
Usually it's a goose that lays the golden egg, but in Golden Gallina, it's all about chickens and hens and the mischief they get up to. Look out for hens and roosters on the reels, as well as other farm-related symbols like tractors, barns and chicken coops too, along with more traditional icons in the form of bars, double bars and lucky 7s. And then of course there are the golden symbols you'll want to see come up in combos, from golden eggs to bags of golden coins, all full of sparkles and winning potential!
And speaking of gold, that's exactly what you'll be going for, with a 4,000x top payout to claim, and an RTP of 96% helping you out along the way. You'll also have a 5×3 reel formation at your disposal, along with an amazing 243 ways to win, and electrifying features like wilds, multipliers, scatters, and free spins too. So many golden opportunities, so many thrilling ways to make your jackpot dreams come true!
Want to make your play for the Golden Gallina? A minimum bet of $0.30 or a max bet of $30 will get you in the game, as will any bet size within the same range – it just depends on what your bankroll is able to handle. Choose a bet size that's within your budget and you'll be ready to go!
You know how roosters can be incredibly annoying, crowing at the crack of dawn – so much so that you almost want to strangle them? Well, in Golden Gallina, you'll love every rooster you come across – no fowl play here, only fabulous rooster wilds to look out for. Definitely something worth crowing about! Here the wilds won't annoy you at all – instead they'll substitute for other symbols in order to help create winning combinations, giving you the payouts you're searching for. Cock-a-doodle-doo!
Those aren't the only wilds you'll find though – look out for golden egg wilds as well! These glittering bonuses are part of the Gallina spins feature – a bonus round that could trigger randomly at any point during your game, bringing up to 3 multiplier wilds with every spin. The more 2x or 3x multiplier wilds you find, the more you could boost your winnings – plus, thanks to the fact that the multipliers combine, you could be increasing your payouts by up to 27x your original bet! Clucking fantastic!
Finally there are the free spins to keep an eye out for – a bonus round that you'll activate simply by finding 3 scatter symbols on reels 1, 3 or 5. Get enough scatters and you'll get 8 free spins to play, along with 2x and 3x golden egg wilds too. With 5 reels now open for wilds to land, Golden Gallina could lay up to 243x in multipliers for you – plus 5 more free spins every time you land a multiplier on every reel. So many winning opportunities, so many jackpots waiting to be laid. Will you crack one open? You'll have to play Golden Gallina first to find out!
Happy Spinning 🙂