Online slot review: Golden Ticket 2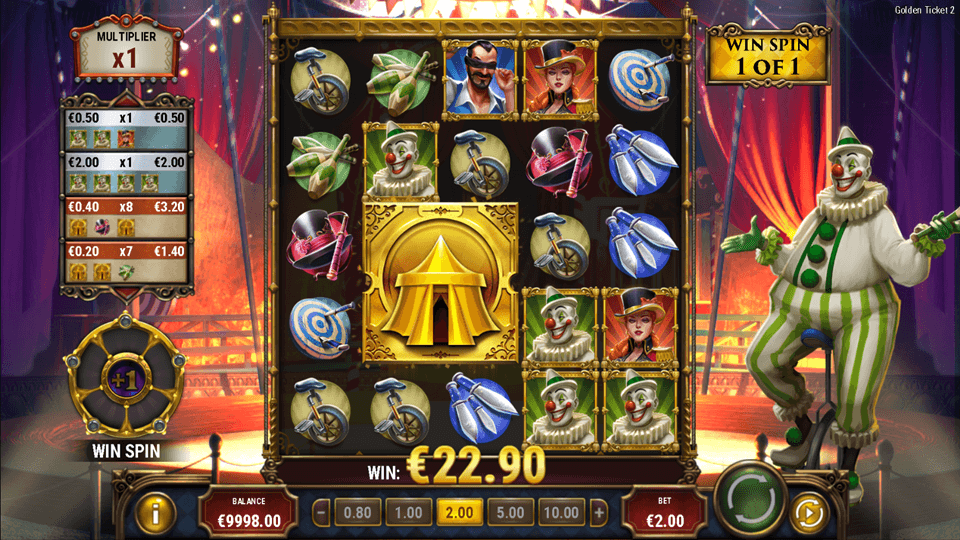 Ladies and gentlemen, take your seats – the greatest slot on earth is back, and it's bigger than ever! It's Golden Ticket 2, and it's Big Top drama and excitement all over again, with bigger winnings too!
With its second circus-themed slot, Play'n GO is bringing vintage entertainment to life all over again, following the huge popularity of its first Golden Ticket slot. Now with a sequel to enjoy, it's time to grab your popcorn all over again and sit down to another spectacle of jackpot thrills. The circus is in town, and so are the payouts!
Roll up to the extravaganza this time, and you'll have a familiar 5×5 reel formation to spin and win with, along with bonus features like Golden Ticket wilds, three different sets of free spins to choose from, and a win spin feature too. And the price of admission? Any amount your bankroll can handle, from 0.20 credits up to a maximum of 100.
Got your ringside seat ready? Then let's get started! If you're already familiar with the original Golden Ticket, you'll know how the game works. Spin the reels and any 3 matching symbols you find in a horizontal or vertical row will give you an instant win. Even better, the middle symbol of any winning combo you hit will transform into a sticky Golden Ticket wild that'll stay in place as the other matching symbols disappear, with the symbols above tumbling down to fall into the gaps. More winning combos mean more wilds, and more payouts for you!
So far, so similar. But of course as this is the all-new Golden Ticket 2, there's more to look forward to in this show, in the form of three colourful circus characters – the clown, the knife thrower, and the ringmaster. Find a winning combo with these characters, and the wild multiplier meter on the left will start to fill up. Get three of these on one spin and you'll be rewarded with a 2x multiplier – or even a 3x multiplier if you find more than three winning combos at once. Once you've been awarded your multipliers, they'll take their place on the reels to bring even more winnings your way, and more excitement too!
Of course this is the circus, so we're not done with the show just yet. Remember the 'BONUS' that appeared in a random vertical formation in Golden Ticket? Well it's back, but this time in a random horizontal formation, with the symbols on the reels in front of it. Clear all the symbols away from the word 'BONUS', and you'll unlock a choice of three free spins games for yourself. Choose from the clown's 9 free spins with no multiplier, the knife thrower's 7 free spins with a 2x multiplier, or the ringmaster's 5 free spins with a 3x multiplier, and let those reels roll!
Once your free spins get going, you won't just have your normal wins and Golden Ticket wilds to look forward to – you'll have win spins to play for as well. Fill the win spin meter on the left, and you'll be rewarded with a giant 2×2 wild on the reels for more winning opportunities – and if you clear the reels of all symbols during the bonus game, you'll be awarded the grand prize of 5,000x your original bet!
The excitement never stops under the Golden Ticket 2 Big Top, so step right up and experience all the magic and all the slots exhilaration today. It's the greatest show, and the greatest way to enjoy casino gaming at its best!
Happy Spinning 🙂