Online slot review: Santa's Stack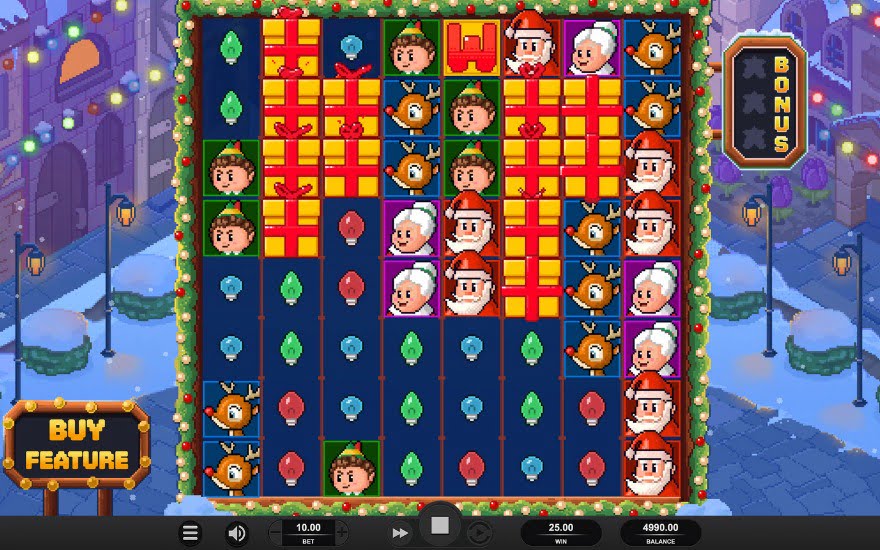 We know it's November but we're seriously done with this year already. Let's just put up a Christmas tree and call it a day.
With that sentiment in mind, we're skipping over this month completely and going straight to the Christmas-themed slots, because we could really do with a little festive cheer in our lives right about now. And if Santa's got a lovely jackpot wrapped up for us under the tree, so much the better!
Speaking of Santa, that's exactly who's the star of the show in Santa's Stack, the delightful new Christmas-inspired slot from Relax Gaming. This is no ordinary festive-themed game though – instead it's one that makes use of 8-bit style graphics for a fun retro feel. So while you might think you're playing an old arcade game, you're actually spinning the reels on a slot – and you could have some major payout gifts coming your way as a result!
As you should know by now, big surprises are Santa's specialty, which is why you can look forward to a big game area to play on, complete with snow and twinkly lights. Look out for some fun festive symbols on the reels too, from Rudolph and Mrs Santa to elves and the jolly bearded man himself. With a full 8 reels and 8 symbols on each one, there's plenty to keep you entertained on every spin, including wilds, scatters, cluster pays, and a fantastic top jackpot of 20,000x your original bet! We don't know about you, but we're putting that at the top of our Christmas list this year!
No naughtiness here – in fact the betting range is oh-so-nice, with wagers ranging from $0.10 for a minimum bet to $50 for a max bet. So whether your Christmas bankroll is little or large, there's plenty of scope for you to find a way to play. And if you're able to invest in a max bet of $50, that means you're looking at a top jackpot win of $1,000,000 if you happen to strike it lucky – which is exactly the kind of Christmas cheer we're looking for!
Want to make your Christmas a winning one? Then you'll need 5 matching symbols to appear next to each other after each spin. Once you've found a winning cluster, the matching symbols will disappear, to be replaced by new cascading symbols falling down from above. Find more matches and you'll keep triggering more cascading reels with every winning cluster that appears. Plus, find the ultimate cluster of 60 matching symbols, and you'll be gifted with the top 10,000x payout!
Don't forget about the wild – because this little helper not only acts as a substitute for other symbols, it also activates the respin feature for you too. Find a winning cluster that includes a wild, and all the matching symbols will instantly be transformed into mystery icons. You'll then get to play your free respin with the mystery cluster locked in place, while you set about filling the rest of the game area with more winning clusters – and if you can get them next to the mystery cluster, so much the better. Once you've found as many winning combos as you can, every symbol in and around the mystery cluster will transform into the same image, giving you one single payout, and endless jackpot thrills!
Santa's still got more surprises for you though, this time beautifully wrapped up as free spins. Get 3 or more scatters on the reels to trigger 5 or more free spins, and for every additional scatter that lands during the round, you'll get another free spin plus a multiplier that increases by 1x every time.
We might not be in December quite yet, but we're already feeling the Christmas spirit – and with Santa's Stack, we hope you'll soon be feeling the winning spirit too. Good luck, and happy holidays!
Happy Spinning 🙂