Online slot review: Solar Wilds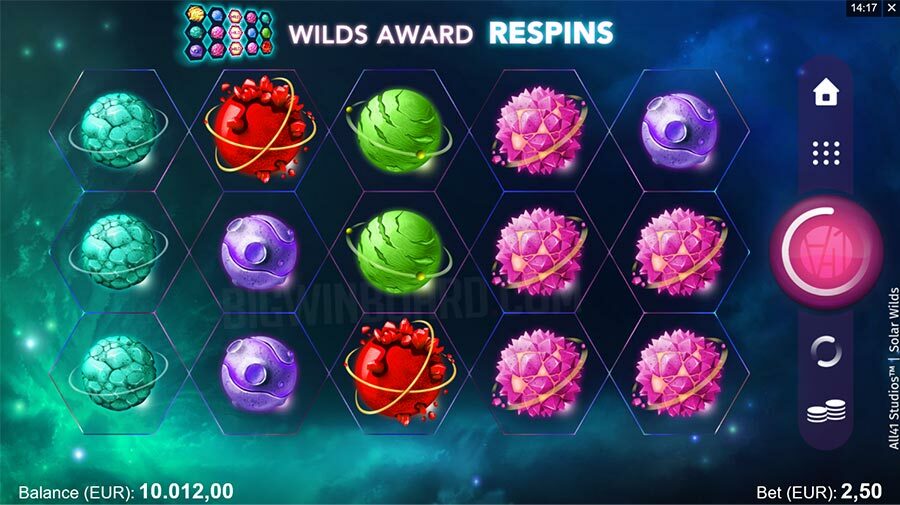 Forget going jackpot crazy – let's go jackpot wild instead! With Solar Wilds that is, the sizzling new slot from All41 Studios and Microgaming. Coming soon to an online casino near you, Solar Wilds is set to be released in March 2021, so keep a lookout and get ready – the winnings are heavenly and they could soon be on their way to you!
So what's so wild about Solar Wilds? Firstly the top payout – up to 1,000x your original bet. Which might not sound like much to begin with, but if you're hitting the max bet and the jackpot happens to come your way, you'll be looking at a spectacular $100,000 payout – and we think that's pretty wild! You've also got a 5×3 reel format to play with, 10 paylines that pay both ways, and an RTP of 96.27% – not to mention an electrifying solar system theme, complete with planets and twinkling stars too!
Looking to skyrocket your winnings into outer space? Then let's get those bets placed and get you playing to win! One of the big benefits to playing Solar Wilds is the wide scope for betting – $0.01 to $10 per line, giving you a total bet of $0.10 to $100 per spin respectively. Just take a look at your bankroll, decide how big a bet size you can sustain over a gaming session, and get your bets ready – interstellar winnings are waiting!
3, 2, 1, launch! Houston, there are no problems here, only huge jackpots to be discovered. And there's no getting lost in space either, as you could be finding winning combos right away, all thanks to the Solar Wilds of the title. Find any wild symbols on the middle three reels and you'll immediately complete any winning combos that may appear – so the more wilds you discover, the more rewards you'll have coming your way.
The wilds don't stop there though – in fact they'll get bigger and better (literally) as soon as you come across the expanding wild. Find this cosmic beauty and it'll instantly trigger a respin for you, while staying locked in place. Activate another expanding wild during your respin, and it'll stay in place as well, triggering yet another respin for you. But the respins don't stop there – find a third and final expanding wild on the middle reels, and you'll have a final respin to enjoy – one that could soon see winnings of intergalactic proportions coming your way! So if you've got all 10 paylines activated, each paying both ways, and you're able to afford the max bet size, that 1,000x top payout could soon be blasting off to your casino account like an asteroid of awesome!
Space puns aside (although we have so many more where those came from), if you're looking for a decent online slot from a trusted provider, Solar Wilds could be just the game you're after. It's a quality build, it's got just enough excitement to keep you coming back for more, and it'll soon have you searching the solar system for winnings that are out of this world! (Sorry, we just had to…)
Happy Spinning 🙂