Online slot review: Starburst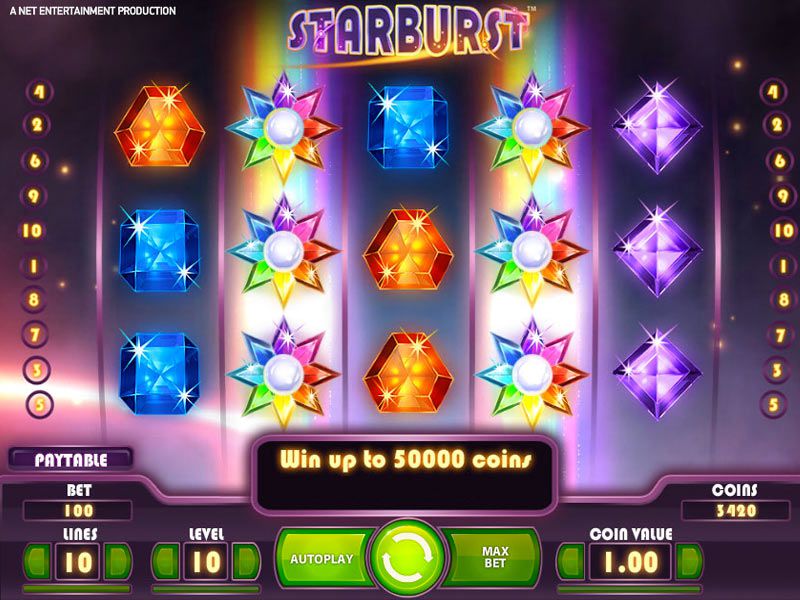 Looking for winnings that are out of this world? Then you don't just want any online slot – you want Starburst, the game that's serving up entertainment of cosmic proportions!
One of NetEnt's most popular video slots, Starburst is everything you love about classic online casino play. It's got crisp graphics, an engaging soundtrack, thrilling bonus features, and of course, intergalactic jackpots too. This isn't just any slot – this is the legendary Starburst, and it's time you experienced all the excitement of this iconic slot for yourself!
Get ready to play and start blasting off for interstellar payouts right away! With 5 reels and 10 paylines, Starburst is jam-packed with jackpot potential, and with its retro arcade game look and feel, it'll take you back to the 80s and 90s in winning style!
Littered with dazzling gems, Starburst shines bright as any constellation – and if you get the jewels in the right combinations, you'll have sparkling payouts coming your way instantly. Just choose your bet amount from as little as $0.10, choose how many coins to play with each bet, and choose whether you want to play manually or via Autoplay, and you'll be on your way!
Of course there's more to Starburst and its enduring popularity than simple rows of gemstones – there's the Starburst wild as well, the symbol that this slots classic has become famous for! Get a Starburst wild on any of reels 2, 3 or 4 and you'll trigger the Starburst wild feature – one that'll cover the entire reel in wilds and lock it in place while the remainder of the reels respin. Find another Starburst wild and it'll also expand throughout the entire reel, keeping it in place again while the reels go for a second respin. Finally, find one or more Starburst wilds on the remaining unlocked middle reel, and you'll have another expanded wild reel and a third respin to look forward to – which could mean a supernova of winnings for you!
While Starburst has a familiar look and feel thanks to its traditional game play style, its futuristic graphics and engaging features have been keeping players entertained for years – so it's no wonder that Starburst is as popular today as when it was first released. And now it's your turn to play for your own astronomical winnings, courtesy of NetEnt.
Just remember, before you take off into the jackpot stratosphere, to always keep your bankroll in mind, and to choose the bet size that's right for you. Starburst works off of different bet levels, with 1 being the lowest and 10 being the highest, so make sure that before you hit the spin button, your bankroll can handle the bet size you've chosen for it.
No time to play Starburst at home? No problem! NetEnt has optimized their celestial slot for mobile play, so whether you want to go exploring outer space from your computer at home, or from your mobile or tablet on the go, you'll be able to set off on your jackpot adventure anytime, anywhere. Just log on, place your bets, and get ready for a universe of winning excitement!
Happy Spinning 🙂