Rule the jackpots in Atlantis: The Forgotten Kingdom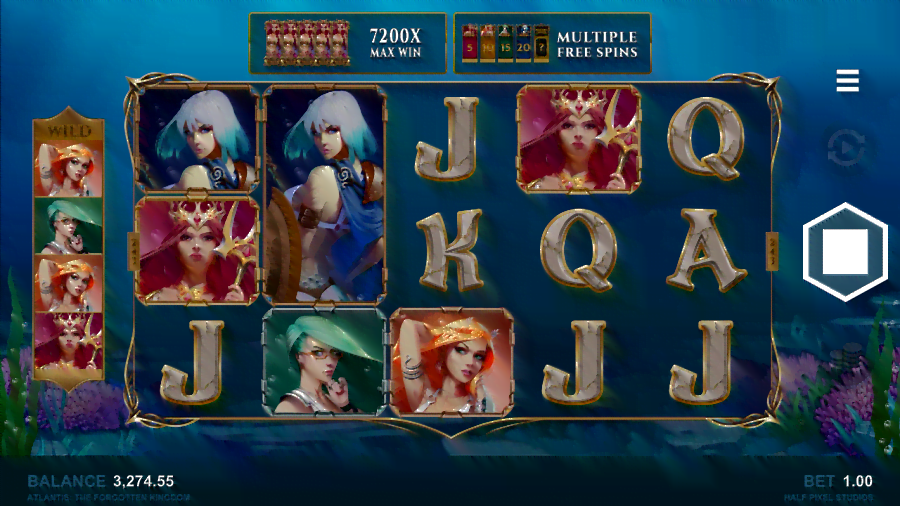 Atlantis: The Forgotten Kingdom
0.00
Pros
Great bonus features
Loaded reels
Crisp graphics
Everyone knows the tale of the Lost City of Atlantis – the great city built by Poseidon to protect his beloved, that one day mysteriously disappeared. Theories abound as to what became of it and where it supposedly lies, and despite its mythological origins, its legend lives on to this day.
Now Microgaming is breathing life into this enduring fable once again with its latest release, Atlantis: The Forgotten Kingdom. Developed in conjunction with Half Pixel Studio, Atlantis: The Forgotten Kingdom is an epic underwater journey led by mermaids, in search of treasures beyond compare.
With four high-paying mermaids as your guides, you'll explore the mysteries of the deep across a 5×3 reel game area with 243 ways to win, an RTP of 96.19%, and an endlessly rewarding top jackpot of 7,200x your original stake. Along the way you'll run into free spins, scatters, wilds, multiplier wilds, stacked wilds and symbols, and neverending excitement. Simply choose your bet size anywhere from $0.20 to $30 on every spin, and let the voyage through the deep begin!
Set the reels of Atlantis rolling, and when you catch sight of a mermaid, you could find it stacked too, spreading its magic over up to 3 positions and increasing your winning chances at the same time. Keep an eye on the bonus reel on the left-hand side of the game area while you play, because once you find it filled with identical mermaid symbols, you'll instantly be rewarded with a stacked wild multiplier of up to 4x, giving a much-needed boost to your winnings.
Looking for more jackpot gems? You'll find them in the form of the pearl scatters – precious stones that'll take you straight to the free spins feature as soon as you find 3 to 5 of them on the reels after a single spin. Even better, not only will you instantly win up to 100x your original bet, you'll be able to choose from four different free spins feature:
20 free spins + a Warrior wild, and a top payout of up to 3,600x
15 free spins + a 2x Adviser multiplier wild, and a top payout of up to 4,800x
10 free spins + a 3x Beauty multiplier wild, and a top payout of up to 6,000x
5 free spins + a 4x Queen multiplier wild, and a shot at the top jackpot of 7,000x!
What's more, there's also a mystery option you can choose instead – one that'll give you a random amount of free spins, and a random mermaid wild too. What will fate have in store for you in Atlantis? Choose the mystery option and find out!
We may never know what became of the Lost City of Atlantis, but what we do know is that Atlantis: The Forgotten Kingdom promises huge excitement and huge rewards too. And there's no mystery as to how to claim them – simply log onto your online casino, place your bets, and look forward to an epic tale of untold treasures!
Happy Spinning 🙂