Search for huge jackpots under the Eye of Anubis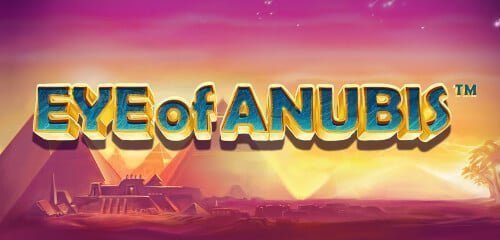 From Egyptian adventures to Egyptian gods, here's a different slot that stays within the same ancient realm – this time taking Anubis, the god of the underworld, as its theme. Another Egyptian slot from Playtech, following on from the popularity of its Curse of Anubis title, Eye of Anubis follows in the same vein, this time with cluster pays, gemstones, and a treasure trove of thrills and excitement!
Don't worry – Anubis the jackal-headed god won't be taking you down into the underworld with him. Instead he'll be taking you on an action-packed slots adventure through 8×8 reels of exhilaration, a top payout of 10,000x your original bet, an RTP of 95.76%, and an array of rewarding special features from scarab wilds and multipliers to free spins and collapsing reels too. And the best part – you won't have to wait until the next life to enjoy them; they're all yours right now!
Before you set off on your winning journey with Anubis though, what does your budget look like? If it's a little low, you may want to stick to minimum bets of $0.10 per spin. On the other hand if your bankroll's looking healthy, you may want to set your sights on the max bet of $500 – or anywhere in between!
Once you've chosen your bet size and started spinning the reels, you'll notice that you have 64 symbols on the 8×8 reels at any one time – and as soon as you form a cluster of 5 matching symbols, you'll have a win on your hands! Once your cluster win pays out, the collapsing reels feature will activate, removing the winning cluster and allowing new symbols to fall into its place. The more winning clusters you keep on finding, the more collapsing reels you'll trigger for even more potential wins, giving you unbelievable winning opportunities. All you need to do is hope you can capitalise on them!
Look out for the scarab wild while the collapsing reels are in play – as each time the reels collapse, the multiplier attached to the wild will get a 1x boost. So the more consecutive winning clusters you keep finding, the bigger the boost your multiplier will get – until your luck with the winning clusters runs out, and you need to spin again.
That's not all the wilds are good for though. Get 3 or more on the reels at the same time and you'll have 6 free spins to play, along with more multipliers too. This time the multipliers will be applied to all your winnings from the bonus round as a whole, which could mean some huge glittering rewards for you!
As you can see, even though Anubis is the god of the underworld, there's nothing to be afraid of. Instead, there's everything to look forward to – like electrifying slots play and golden jackpots all round!
Happy Spinning 🙂