Take Olympus, take all the jackpots!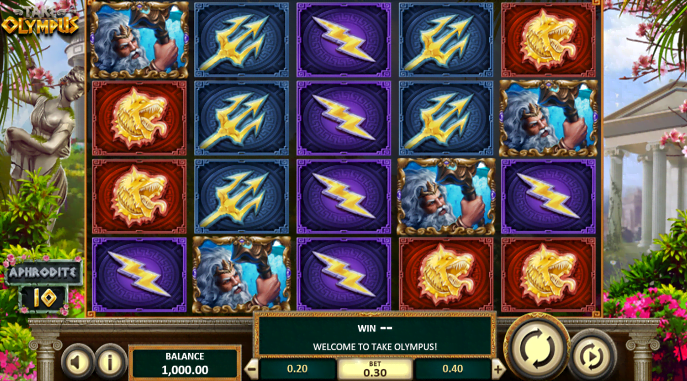 You've heard of Mount Olympus – the mythical home of the Greek gods, where Zeus ruled with a fist of thunder and lightning. Now, in Take Olympus, it's home to jackpots of mythical proportions as well!
Set amongst a backdrop of intricately designed statues, gardens and temples, this divine offering from Betsoft is everything you'd expect the home of the gods to be and more – a space filled with heavenly flowers, luxurious white marble, and opulent trimmings worthy of the gods.
Take a walk through the celestial sanctuary and you'll see familiar figures from Greek mythology dotted around the reels – gods like Zeus, Apollo, Poseidon, Aphrodite and Hades, as well as golden symbols like tridents, bows and arrows, leaves and thunderbolts too.
Want to get playing and see what fates the gods have in store for you? You'll have 5×4 reels and 50 paylines to start your search for fame and fortune, as well as a top payout of 2,328x your original bet (or a max of $93,120), plus an RTP of 95.49% too. Place your bets anywhere from $0.10 to $40 per spin, and see what heavenly heights you can reach with each one!
Because nothing ever goes according to plan where the gods are involved, in Take Olympus you won't just be spinning the reels randomly – instead you'll be spinning them in a series of 10 spins, a play known as the Cycle of the Gods. Each cycle of 10 spins has a different god that reigns over it, and unleashes their power as the last spin in the series takes place. New cycle of 10 spins, new god to rule over you and your fortunes – so get ready for an impressive show of strength and power from these mighty deities!
What do each of the gods have in store for you as they reign supreme over a cycle? Take a look:
Aphrodite: Be ruled by this goddess of love, and keep an eye out for any Aphrodite or leaf icons you find during your 10 spins. During the final spin, each of these will be transformed into a mystery box, and then again into a single symbol to boost your winning chances.
Apollo: This god of prophecy, healing, divination and the arts is a gifted archer as well. Look out for his bow and arrow symbols during your series of spins, and on the 10th, each of them will be transformed into extra wilds.
Hades: The god of the underworld will rain wrath down upon you – and winnings as well, in the form of Cerberus and Hades multipliers. Score any winnings during your 10-spin cycle, and the multiplier will be applied, hopefully giving you a hellishly huge total!
Poseidon: As the god of the ocean, Poseidon wields his trident with great power – and this is exactly the symbol you'll need to look out for in your spins. The more you find, the more respins you'll earn by your 10th and final spin.
Zeus: As the king of the gods, Zeus can borrow powers from other gods, and can land on the reels as a wild symbol as well. Find a full reel covered with four Zeus symbols, and should the other gods also be present on the reels, Zeus will send 10 more spins your way, and can add wild, multipliers, mystery symbols and respins too. It's good to be the king!
There's no praise or worship needed with these gods – simply join them on Mount Olympus and let them bless you with heavenly treasures. Fame and fortune await!
Happy Spinning 🙂