The world's most expensive champagne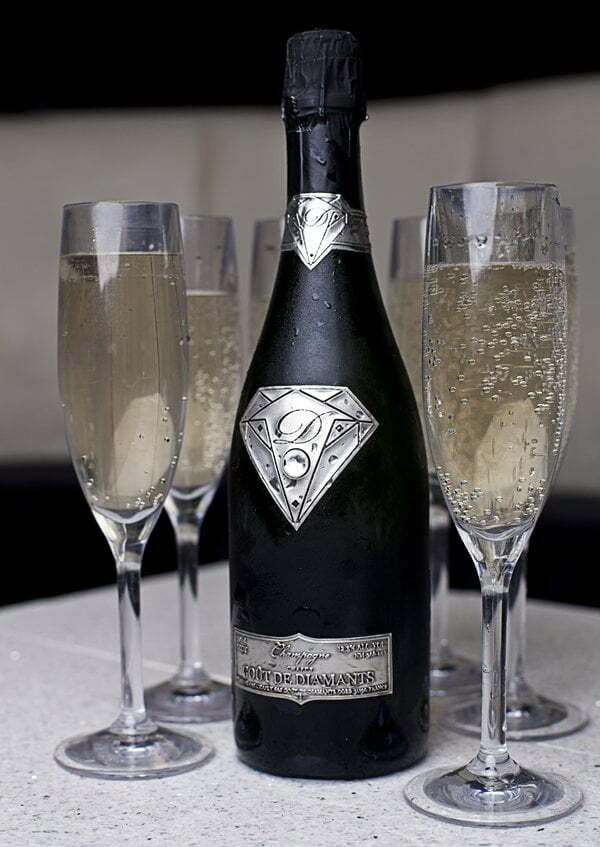 There's nothing like the taste of champagne – delightful bubbles sparkling on your tongue, making every celebration that much more delicious. Of course, more often than not it's sparkling wine rather than champagne, as the real thing can often be outside our budgets. But that's no problem if you're a lucky casino jackpot winner. In fact, forget ordinary champagne – if you've got a multi-million payout burning a hole in your back pocket, you might even be able to splurge on one of the world's most expensive champagnes instead!
1. 2013 Taste of Diamonds – $2.07 million
What's better than diamonds, AND better than champagne? Why, both together of course! And that's exactly what you'll get when you treat yourself to a bottle of the exquisite 2013 Taste of Diamonds – two of the world's ultimate luxuries in one gloriously indulgent sip.
Of course, you'll have to pay for the honour – an unbelievable $2.07 million to be exact. We'll wait while you finish coughing at the price. And yes it's real. It also happens to be part of a VERY limited edition series, which is why the cost is as extravagant as the champagne itself.
So why is Taste of Diamonds considered to be the world's best when it comes to champagne (or at least, the world's most expensive)? Firstly, because of its light, floral notes, achieved through a delicate blend of not one, but three different types of grapes, including Pinot Meunier, Pinot Noir, and Grand Cru Chardonnay.
And then there's its bottle – a singular creation with a logo crafted from 18-karat gold, and featuring a sparkling 19-carat white diamond in its centre. Designed by Alexander Amosu, this is no ordinary bottle – it is a work of art, and a flawless one at that. Small wonder then that both diamond-studded bottle and heavenly champagne together unite as one to form the most expensive beverage you'll ever taste. So if you're able to afford one for your collection, make sure you enjoy it down to the last drop. And whatever you do, don't throw the bottle out with the recycling!
2. 2013 Armand de Brignac Rose 30-Litre Midas – $275,000
We know you've heard of Jay Z – rapper, entrepreneur, and husband to the all-powerful Queen B, Beyoncé herself. What you may not know, however, is that as part of his global brand, Jay Z has branched out into champagne as well, having first launched the 15-Litre Armand de Brignac in 2011, for the lofty price of $90,000. With a logo in the shape of a spade from a deck of cards (leading to the champagne's nickname 'Ace of Spades'), the bottle itself takes master glassblowers a full six months to create, with the champagne inside a deliciously light, floral blend.
Of course, with his first champagne having been so successfully launched into the luxury market, it's no surprise that Jay Z went one step further, doubling the size of the bottle in just two years, and releasing the Armand de Brignac Rose 30-Litre Midas in 2013. How much is 30 litres? Only 40 regular-sized bottles, and enough to get the party started on its own, and then some. Plus you'd need to get a whole crew to bring it inside as well, considering the bottle stands at 4 feet, and weighs an incredible 40 pounds. If you've got $235,000 to spare though (yes, really) we've got just the talking point you're looking for – plus it tastes fantastic as well. We'll drink to that!
3. Perrier-Jouët Champagne – $50,000
Fancy some Perrier? No, not the bottled water – the champagne. Perrier-Jouët, to be exact. While you may be familiar with the water though, the champagne has managed to make an incredible name for itself, priced at $50,000 and offering a tangy, fruity flavour that's loved by connoisseurs the world over. What's more, purchase one of these sought-after bottles, and you'll be able to personalise it too, making your bottle of Perrier-Jouët truly your own. All we can say is that for that price, don't be tempted into sharing it with anyone else. This one's for you, and you alone. You know you want to…
4. 1996 Dom Perignon Rose Gold Methuselah – $49,000
Of course Dom Perignon had to make it onto this list at some point – it's only one of the world's most recognizable names in champagne. Although while you may be familiar with the brand, you may not be familiar with one of its most expensive varieties – the 1996 Rose Gold Methuselah, six litres of exquisite champagne selling for $49,000, with only 35 bottles ever made.
Why 'Rose Gold'? Well, with a rose-pink champagne and a gold-plated double magnum bottle, it seemed the obvious choice for a name. Not so obvious is the fact that you'll need more than a few friends to help you finish it, although when you tell them it's Dom Perignon you'll be serving, we're sure you won't have any trouble with RSVPs. The only thing left for you to do is figure out how you're going to pour it – as we're sure six litres of champagne can't be easy to manoeuvre. Best you get started on those bicep curls!
6. 1841 Veuve Clicquot – $34,000
Another famed bubbly brand, Veuve Clicquot is known as the Grande Dame of champagne, and lives up to its global reputation with every sip. Perhaps you've even been lucky enough to try some yourself, but we know for a fact that you've never tried its 1841 vintage. That's because only three bottles exist to this day – found in a shipwreck in the Baltic Sea by a team of Swedish divers. We know that gold and jewellery are usually thought of as undersea treasure, but for us, champagne is every bit as precious.
While you may think that the champagne would be undrinkable after so much time, in fact the unique environment in which it was found actually preserved it, keeping it in excellent condition. So much so that when one of the bottles was auctioned off, it was sold for the amazing price of $34,000! Going, going, gone – three cheers to that!