The world's most expensive chocolates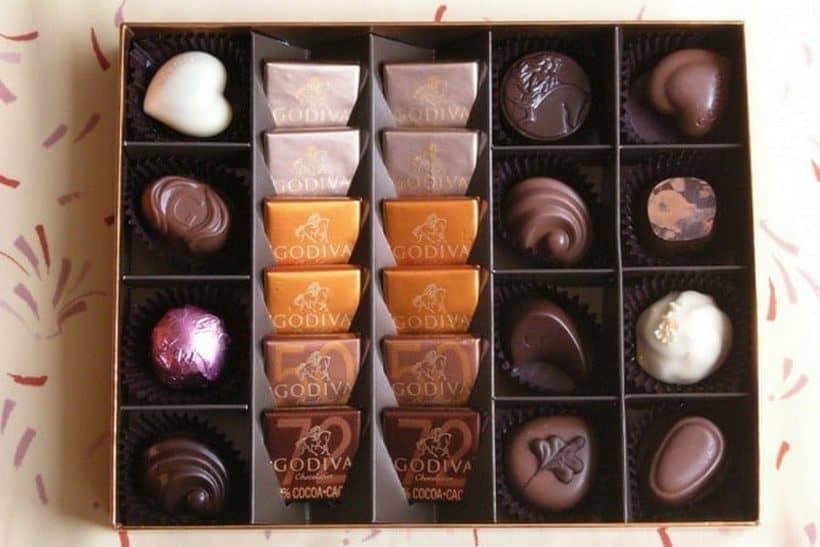 What's more indulgent than opening a box or slab of chocolate and enjoying bite after bite of rich, creamy deliciousness? Spoiling yourself with some of the world's most expensive chocolates, of course! If you've got a sweet tooth and a casino jackpot to burn, then we've got some of the most decadent, extravagant chocolates money can buy. Take a look and get ready for every chocaholic's idea of heaven!
1. Le Chocolat Box by Simon Jewellers
It's by a jeweller so already you know it's going to be good. It's Le Chocolat Box by Simon Jewelers, and it's the ideal combination of sparkling gems and chocolate opulence in one lavish package. So what makes Le Chocolat Box so deliciously unique? Firstly, its delectable gourmet chocolates from Lake Forest Confectioners – and secondly, the glittering jewellery pieces selected to accompany them. Just imagine – opening a gift box of chocolates and finding not only chocolates, but rings, earrings, bracelets and a necklace too! It's the ultimate indulgence, and it's yours for the sweet price of $1.5 million. Ooh la la!
2. Swarovski Chocolate
Everyone knows Harrods as one of the world's most exclusive retailers – so it should come as no surprise that when they sell chocolate, they're super extra about it. No run-of-the-mill candy bars or chocolate boxes here – instead, get ready for a $10,000 box of chocolates crafted by famed Lebanese chocolatier Patchi, and embellished by jewellery giant Swarovski. Picture it – a gift box filled with 49 pieces of delectable chocolate art, studded with Swarovski crystals, silk roses and gold, each one lovingly embraced by an interior of Indian silk, with partitions of leather, platinum and gold. You'd savour every last sumptuous mouthful – and of course, you'd never be satisfied with regular store-bought chocolates again!
3. Chocopologie Chocolate Truffles
Did someone say 'chocolate truffles'? We are HERE for them – especially when they're created by world-renowned Danish chef, Fritz Knipschildt. Famed for his heavenly truffles, Knipschildt has spent years perfecting his craft, the luscious results of which can be found in his café Chocopologie, in Norwalk, Connecticut. If you're looking for something extra, extra special though, you'll find it in the La Madeline Truffe, one of Knipschildt's signature creations, and the highest level of truffle perfection. Created with 70% Valrhona dark chocolate and vanilla, as well as truffle oil, sugar and heavy cream, La Madeline is heaven in a bite, its smooth, rich, creaminess lingering on your palate like a chocolate kiss from above. Small wonder that it needs to be ordered in advance, and carries a price tag of $2,600. One taste though, and you'll agree it's more than worth it!
4. Cadbury's Wispa Gold Wrapped Chocolate
You can't mention chocolate without mentioning Cadbury – and while you might not have seen this particular chocolate bar on the shelves, it's one you'll want to know about nonetheless. Ever heard of the Wispa? Nope, us neither, but apparently it's a Cadbury product that used to be on the shelves some years ago – as far back as 1981, in fact. In 2008, however, a number of celebrities pushed for it to be reintroduced back into the market, and so Cadbury took note and decided to re-release it in a super luxe version. Filled with golden caramel and wrapped in edible gold leaf, the Wispa is now a glittering reincarnation of its former more conventional self, and commands a lavish price tag to match – $1,628 to be exact. No ordinary chocolate bar, no ordinary price!
5. Le Grand Louis XVI by Debauve and Gallais
Heard of Debauve and Gallais before? If you're a chocolate connoisseur you will have, as not only are they famous for their creations the world over, they've also had the privilege of supplying their luxurious wares to celebrities, royalty, and even Napoleon himself! If you're looking to splash out, then Debauve and Gallais is most certainly the way to go, with their famed Le Grand Louis XVI valued at an unbelievable $900. Filled with 99% cocoa, each bite of Le Grand Louis XVI is a luscious exploration of chocolate heaven – one you'll want to repeat as often as possible!
6. Art Series Guayasamin by To'ak
Rare cacao beans aged in French oak cognac casks for four years. Ecuadorian dark chocolate. 77% cacao beans. What would you expect to pay for all this chocolaty decadence? If you said $700 for 50g then congratulations, you're correct. And you're probably also familiar with the Art Series Blend by Ecuadorian chocolate company To'ak – a combination of two vintage editions of chocolate, and one that's as unique as it is utterly mouthwatering. Sure it's a delicacy that doesn't come cheap, but when you're sampling what's known as the world's most valuable chocolate, you expect to be paying a certain price for it. One thing's for sure, if you're spending $700 on just 50g of chocolate, you're keeping every last luscious mouthful to yourself!
7. Edible Gold Chocolates
We definitely need more edible gold chocolates in our life – and where better to find them than from Swiss chocolatiers, Delafee! If you're looking for a treat as golden as it is chocolaty, then you're looking for Delafee's Golden Truffles, heavenly morsels of rich, creamy goodness, crafted from coconut oil, cocoa butter, sugar, milk powder and vanilla, then decorated with edible gold flakes. Sounds good enough to eat, right? Obviously you'd be expecting a significant price tag, and you'd be right – one box of these beauties will set you back just over $500. Gold leaf isn't cheap you know, but it sure is delicious!
8. Vosges Haut Chocolat
Lastly, if you're looking for chocolate that's a little more… unusual, try Vosges Haut Chocolat in Chicago, owned by Katrina Markoff and home to some deliciously different combinations. Ever tried chilli in your chocolate? What about bacon, black sesame seeds, or even wasabi? You'll find them all at Vosges Haut Chocolat, personally designed by Markoff and guaranteed to be a completely unique gourmet experience. And with creations starting at $90, it could be just the taste of chocolate you and your bankroll are looking for!