The world's most expensive perfumes.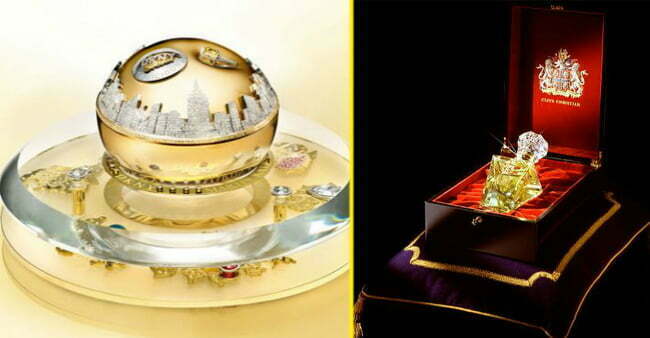 It might not be a must-have but it's definitely a lust-have – a spritz of perfume to complete your look and have you smelling fabulous all day long. What's crazy is how much some perfumes can set you back, with price tags running into the tens of thousands. Why are they so insanely expensive? Because it's not just about the perfume, it's about the rare ingredients used to make it, the skill and expertise of the master perfumer in charge of crafting it, and the bottle itself with all its wondrous adornments.
There's more to perfume than you might think – take a look at just what's gone into making some of the world's most expensive fragrances, and find out why they can command such high prices. And then perhaps use your casino jackpot to buy a bottle of your own. Smells like winning!
DKNY Golden Delicious – $1 million
No, that's not a typo – there really is a perfume out there that sold for one million dollars! "BUT HOW??" we hear you ask. By getting a team from DKNY (Donna Karan New York) together with famed jewellery designer Martin Katz. The result? The brand's signature Golden Delicious fragrance encased in what has to be the most expensive perfume bottle ever made. No ordinary glass and bottle top here – instead this opulent masterpiece was created from nearly 3,000 precious gems, including more than 180 yellow sapphires, 2,700 white diamonds, a Sri Lankan Cabochon sapphire weighing over 7 carats, plus pink diamonds from Australia, a tourmaline from Brazil, a 3-carat oval-cut ruby, a 4-carat pear-shaped diamond, and a 2.43-carat yellow Canary diamond to decorate the cap in the most striking way possible. Sounds more like a jewellery store than a perfume bottle, doesn't it?
The one-of-a-kind creation sold at auction in 2011 for an unbelievable $1 million, with all proceeds donated to the Action Against Hunger charity – a deserving cause and one worth every cent of the price tag. With only one of these bottles ever made, the limited edition Golden Delicious bottle is very limited indeed, although we can't help but wonder what it would have looked like on our dressing table!
Clive Christian No. 1 Imperial Majesty Perfume – $12,721.89 per ounce
Ok so you can't buy the DKNY Golden Delicious million dollar bottle, but you CAN buy yourself the second-most expensive perfume in the world – Clive Christian No.1 Imperial Majesty. Although at $12,721.89 dollars per ounce, you'll need some serious bank! That's because with 16.9 ounces in every bottle, just one of these will set you back an incredible $215,000! Better put an order in now though, as only five of these are ever made per year – and with at least three bottles broken during the process, it's a delicate affair. What can you look forward to once you've laid your hands on one of these ultra-luxurious scents? A bottle capped with a 5-carat diamond (of course) and a perfume designed by master craftsman Roja Dove, featuring jasmine, orris root, rose oil and Italian cinnamon. Always wondered what the rich and famous smelt like? This. This is what they smell like. This and success.
Chanel N°5 Parfum Grand Extrait – $4,200 per ounce
We can't talk about perfume without talking about Chanel – in particular their Grand Extrait, a perfume known for being the world's fourth-most expensive scent due to its being dyed red and oversized for the ultimate keepsake. With a flacon (no, not a bottle, this is Chanel and it's super-fancy) crafted from crystal and sealed with the 'baudruchage' method to keep the perfume inside as pure as possible, this is one wholly extravagant and gorgeous tribute to the original N°5 we all know so well. The only difference? The price tag – this time $1,000 per ounce, for a total of $30,000 for 30.4 ounces. But of course this isn't any old perfume darling, it's Chanel – and it's worth the price for every glorious spritz.
Roja Haute Luxe, Roja Parfums – $3,500.00
We've already mentioned Roja Dove, the colourful perfumer responsible for the extravagant Clive Christian No. 1 Imperial Majesty Perfume. Now let's look at a perfume he's put his name to – Roja Haute Luxe, a scent dripping in gorgeousness with fragrances of jasmine, rose, and ylang ylang (our favourite word to say) and aromatic base notes that include cinnamon, ginger, clove and patchouli. With only 500 bottles of Haute Luxe produced every year, it's a limited edition spend you'll need to keep your eye out for – and at $3,500 a bottle, it's not a cheap spend either. But you'll be wearing Roja Dove, which means you'll be covered head to toe in fabulousness, and that's something you can't put a price on.
Joy Baccarat Pure Parfum, Limited Edition – $1,800.00
We're sure you've heard of Joy by Jean Patou – it's one of the world's most famous and well-established scents, after all. What you may not have heard of, however, is its limited edition version – one that uses double the ingredients of the original for an unbelievable 10,600 jasmine flowers and 28 dozen roses in every one. Lovingly embraced in a gorgeous Baccarat bottle this is the kind of joy that everyone deserves to experience – as long as they can cover the $1,800 price tag, of course.
House of Sillage Cherry Garden – $1,200 for 2.5 ounces
If you haven't heard of the House of Sillage before, then you're in for a wonderfully perfumed treat. Known for their craftsmanship and design of opulent bottles, their Cherry Garden scent is a wondrous example of their talents, showcased in a remarkable gemstone-studded bottle crowned with two exquisite silver lovebirds. As for the perfume itself, it's a delicately sweet fragrance tinged with almond, vanilla, rose and jasmine. A garden of scented delights, and all yours for $1,200.
Ready to splurge on an extravagant scent for yourself this year? You're more than worth it, and now you've got plenty of options to choose from. Of course, a casino payout could be very useful in adding to your bankroll first, so get ready to play your favourite games, and you could soon be smelling like jackpot success!