The world's most expensive shoes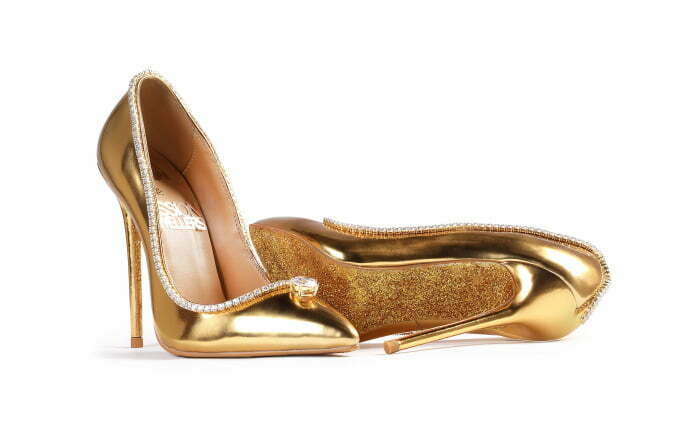 What with lockdown and social distancing and staying home day in and day out, there hasn't been much use recently for shoes – other than slippers, that is. But soon life as we know it will revert back to normal (we hope!) and then it's time to slip on the trainers, the heels and the dress shoes once again.
So when you do finally start to walk a mile in your own shoes, why not make them as fabulous as possible? After all, you deserve something to look forward to after all this pandemic chaos. Get your casino jackpot ready and take a look at some of the world's most expensive footwear – these shoes were made for walking, and in absolutely fabulous style!
Passion Diamond Shoes – $17 million
A pair of shoes for $17 million? Sure, why not. Sort of puts our much-loved bargain shoes to shame, but there's a glittering reason why. Designed by UAE brand Jada Dubai in collaboration with Passion Jewellers, the Passion Diamond Shoes have held the title of the world's most expensive footwear since 2018, and considering their craftsmanship, we're not surprised.
Forget your traditional uppers, inners and decorations – these opulent creations have been lovingly stitched together from silk, leather, and actual gold. But what really turns these heels from stilettos into showstoppers is their sparkling embellishment – 236 diamonds to be exact, including a 15-carat diamond on the toe of each shoe, all D-flawless diamonds and all unbelievably rare. No wonder this prized pair took centre stage when unveiled at Dubai's world-famous Burj Al Arab hotel, as part of a bejewelled footwear collection. Can we afford to own a pair of these $17 million made-to-order stunners? Ha, obviously not. Can we dream about slipping on a pair and owning every street we walk down? One hundred percent absolutely!
Debbie Wingham Heels – $15.1 million
Onto a slightly less expensive pair, but not by much. In fact until the Passion Diamond Shoe came into being, these heels were the world's most expensive, coming in at an ultra-extravagant $15.1 million. Pretty much the price of a small island! (We don't know, but we're guessing.)
Commissioned by a family in Dubai as a 30th birthday gift, the shoes were crafted as a representation of a cake – and while we wouldn't suggest actually eating these, we do acknowledge that they're completely delicious in every way. Designed in collaboration with Florida-based artist Chris Campbell, these beauties took an amazing 100 hours to craft, with gold soles, zips, and even 24-karat gold paint adorning their leather uppers.
But what really sets these heels apart from the rest, and justifies their decadent price tag, is their ornamentation – precious gems from the client's family's private collection, glittering and twinkling with every step. No rhinestones or fake sparklers here – instead the shoes are encrusted with 1,000 pointer diamonds set in platinum, as well as rare three-carat pink diamonds and one-carat blue diamonds as well, painting the shoes in every colour of opulence. And let's not forget the gold thread, rose gold accents and gorgeous leather flowers either – the perfect birthday gift for every shoe aficionado. Were the heels well-received? We're not sure, but we have to say a resounding yes. And also, we'd like the same for our next birthday please, thanks very much!
Jason of Beverly Hills x Tom Ford Loafers – $2 million
It's not all stilettos and ladies' shoes – men can have themselves some pretty fancy footwear too. Take actor and presenter Nick Cannon, for example. When this celeb hosted the 2014 season finale of America's Got Talent, he didn't wear just any ordinary old shoes for the occasion – instead, he stepped out in style in a pair of Tom Ford loafers, custom-made by LA-based jewellery designer Jason (Arasheben) of Beverly Hills. What made these shoes so spectacular? Firstly, their $2 million price tag. And secondly, the 14,000 round-cut diamonds covering every inch of them. Yes, you read that correctly. Fourteen THOUSAND diamonds.
Having taken over 2,000 hours and nearly a year to complete, the shoes were a showcase of talent all on their own, with 340 carats of diamonds set in white gold and placed on the Tom Ford shoes. While they didn't win the competition (that honour went to magician Mat Franco), they were donated to charity by Nick Cannon later in the year, in a hugely valuable gesture. America's got glitter, that's for sure!
Stuart Weitzman's Tanzanite Heels – $2 million
Feeling a little jealous of all the men's sparkle, ladies? Don't worry, we've got plenty where that came from – in the form of Stuart Weitzman's Tanzanite Heels, yours for exactly the same price of $2 million. While these shoes don't feature the same 14,000 diamonds as Nick Cannon's, what they do have are straps encrusted with 185 carats of tanzanite and 28 carats of diamonds, and 4.5-inch heels liberally embellished with another 595 carats of Kwiat diamonds, displayed in a dazzling platinum setting. A gorgeous collaboration with Eddie Le Vian of Le Vian Jewelry, Stuart Weitzman's Tanzanite Heels are a masterclass in craftsmanship and elegance – and one that you'll want to luxuriate in as often as possible!
Kathryn Wilson's Diamond Shoes – $418,450
We're not done with diamonds yet, but we are done with shoes worth millions of dollars. By comparison, these heels from Kathryn Wilson are almost affordable at 'just' $418,450 for the pair. Created for a charity auction in collaboration with Sarah Hutchings from Orsini Fine Jewellery, the diamond-studded shoes took an unbelievable 50 hours of painstaking work to make, with 21.8 carats of diamonds meticulously applied by hand with just a pair of tweezers. The exacting work was worth it though, as every cent of the shoes' sale at auction went to the well-deserving Ronald McDonald House charity. Now that's our idea of money well spent!
Want to strut your stuff in these or similarly blinged-up footwear? All you'll need is a little luck and a casino jackpot by your side. Just log onto your online casino and make your play for some pumped up kicks. You could soon be walking tall like the winner you are!
Happy Spinning 🙂