The world's most expensive superyachts: Part 2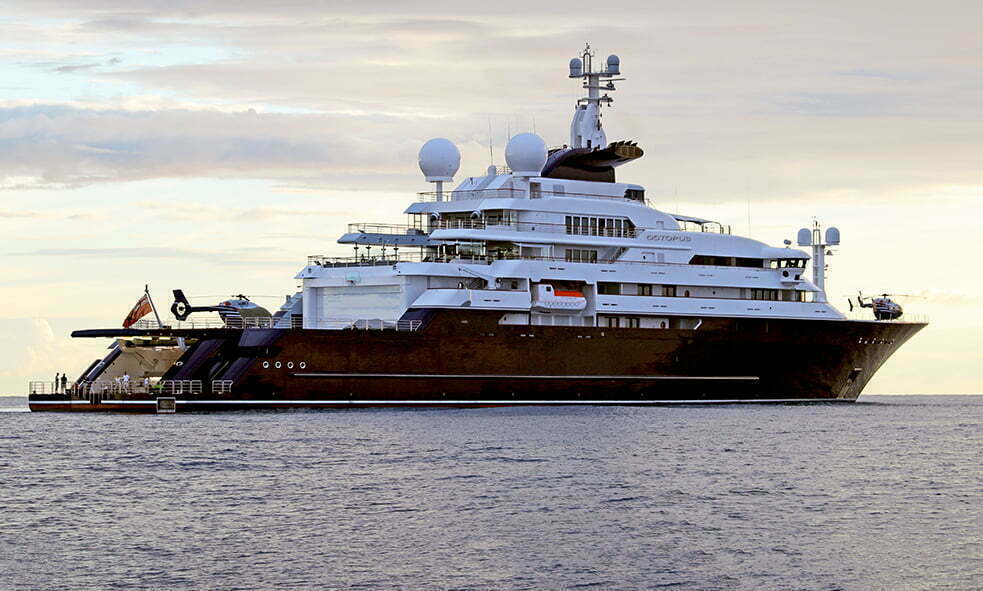 We're back with more superyachts and more ways to set sail with your online casino jackpot! Are you ready? Then let's dive right in!
Octopus – $200 million
It doesn't have eight arms (that would be weird) but it does have more than enough to keep you occupied every moment you're on board. A truly one-of-a-kind superyacht, the Octopus is usually leased and found on more scientific expeditions than pleasure-filled romps, but if you've got the money to charter it or the $200 million to own it, who's to say you couldn't go where the winds take you? Invite all your friends along for the ride, as this 126.2-metre long vessel has space for 26 guests as well as 56 crew members, and boasts lavish facilities like a basketball court, an outside bar, a recording studio, and not one, but two helipads! What's more, it also houses two submarines (because what self-respecting yacht doesn't?) one of which was even lent to Google Earth. Now that's a talking point for your next on-board cocktail party!
Lady Moura – $210 million
Coming in at a little more than the Octopus is the elegant Lady Moura – the tenth most expensive yacht in the world with a commanding price tag of $210 million. Built in 1990 for the Saudi Arabian businessman Nasser Al-Rashid, the Lady Moura is an astounding 344 feet of pure opulence, with its name etched in 24-carat gold, and a hydraulic platform covered in a real-life oasis of palm trees, sand and deck chairs. Why would you ever need to disembark at a beach when you can enjoy the best of island living on board, any time you like? More than this, the Lady Moura also comes equipped with a helicopter, a retractable roof, and enough space for 30 guests and 60 crew members. Now it's a party!
Pelorus – $300 million
The Greek word 'pelorious' means vast, and that's exactly what the superyacht Pelorus is – a vast, luxurious vessel standing 115 metres long and offering the ultimate in extravagance. Previously owned by famed Russion billionaire Roman Abramovich and today owned by a Hong Kong billionaire, the Pelorus commands a $300 million price tag, and isn't available for charters – meaning you'll have to own it outright if you want to take advantage of all its unbelievable features. We urge you to check your bank account though, because if you can afford it, the Pelorus is one seriously amazing investment. Staffed by 46 crew members year-round, the Pelorus comes fitted with two helipads, jet skis and landing boats – everything you need for fun in the sun and adventures you'll want to relive again and again.
Serene – $330 million
Go big or go home with Serene, one of the largest superyachts in the world, coming in at an incredible 439.4 feet. While the yacht is currently owned by billionaire Mohammed bin Salman, it was once leased by Bill Gates for $5 million a week, making it not just huge, but hugely expensive too. So what do you get for its eye-watering price tag of $330 million? A mega vessel that sleeps 24 guests, houses 52 crew members, and features a number of different pools (including a spa pool and a seawater pool), as well as two helipads, a snow room, a steam room, an underwater viewing room, and an outdoor cinema, bar, sauna, conference room, beauty centre, and so much more. No wonder it's known as the Floating Palace – and no wonder it's first on our 'to buy' list as soon as that all-important casino jackpot comes our way!
Happy Spinning 🙂