Wizard World – Online slot review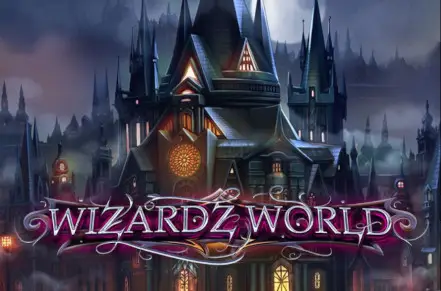 Wizard. The mere word makes me thing of Harry Potter. If you're a fan of witchcraft and wizardry, you're sure to love Wizardz World. The new title from Elysium Studios. Get ready for a fantasy battle between light and dark, and see which side reigns supreme!
We hope you've got your magic wand at the ready, because Wizardz World could soon be casting a winning spell over you. Look out for six wizards on the reels representing the elements of earth, water and fire, as well as a seventh wizard wild too. You'll also have potions and spell books to look out for as well, along with regular card suits for some magical base game winning.
Wizards will be welcome here!
The Harry Potter series might take place at Hogwarts with one cool wizard, but Wizardz World takes place in a 5×3 game area. Along with 20 active paylines. Look out for plenty of supernatural bonus features along the way, including wilds, nudges, fat tiles, stacked symbols, and a spellbinding top payout of 1,000x your original bet! Find the magic bet size that's right for your budget. Anywhere between $0.20 and $40, and let the clash between light and dark begin!
The first skirmish between dark and light takes place with a feature known as fat tiles. Or more commonly known as stacked symbols. In Wizardz World, the symbols you're looking for will come with either a green or a blue outline around them. Signifying whether they belong to the light wizards or to the dark. Once a fat tile appears on the screen, it'll immediately be collected in its relevant meter. This will help trigger a bonus game for you later down the line. If this doesn't make you want to be a wizard, I don't know what will!
Fat tiles are good!
That's not all fat tiles are good for though – they'll also double as wilds too. Helping to complete winning combos for you. Although, because here the wilds are stacked symbols, they'll give you even more help than usual. They'll pay out 50x if they form their own combo on a payline. Fat tile, and fat bankroll at the same time!
There's also the nudge to look out for – a bonus feature that'll trigger randomly. Nudging a stacked symbol to fill an entire reel, and boost your bank account too.
Fill the meters!
Don't forget about the fat tile meters though, because here's where the battle between light and dark truly begins. Fill one of the meters with enough fat tiles, and you'll instantly activate a bonus game. Giving you the opportunity to choose a wizard from one of the sides. Associated with either fire, earth or water. In a nod to 'rock, paper, scissors', the different elements can conquer each other in the same way. With water beating fire, fire beating earth, and earth beating water. Keep on playing, and as long as you keep winning, you'll stay in the game and hopefully add to your prize total too!
It's a magical ride with Wizardz World and it's one you don't want to miss out on. So get your wizard's robes and hat ready, make sure your magic wand is by your side, and see if you can cast the ultimate jackpot spell!