Bring jackpots home with The Winning Dead!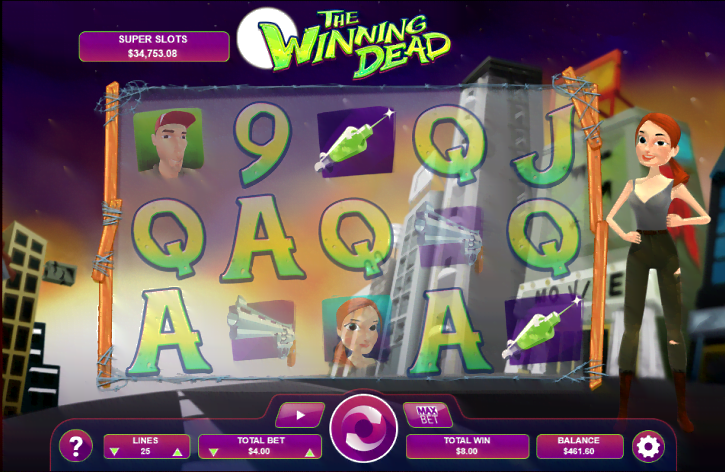 Arrow's Edge is joining in on the Halloween high jinks with their contribution to the genre. It's called The Winning Dead and it's less vampires and witches, and more zombies and post-apocalyptic winning frenzy! Luckily we're all about the living dead, and we've been honing our survival skills just in case – so this scary slot doesn't stand a chance!
Your mission in The Winning Dead? To team up with Jackson and Anna Belle and to get through the hordes of the undead alive – and hopefully with some winnings in your back pocket too. To get there, you'll need to spin the reels on this 5-reel, 25-payline video slot, and place your bets strategically too. Depending on how much you've got saved in your bankroll, you'll be able to make bets of between $0.01 and $10.00 per line with every spin – just check your account to find out how much you can afford to bet, and you'll be able to give those zombies a run for their money!
What's more, you'll also have a progressive jackpot to play for as well – and since it's triggered randomly, it could pay out at any time. So it's a surprise, but the kind that you'll be glad to have come your way (rather than crowds of zombies gaining on you).
We hope you've got good aim, because as soon as the zombie symbol appears on reels 2, 3 and 4, you'll instantly trigger the bonus round – which will see you with your finger on the trigger, shooting zombies in one of four different locations. Kill three to five zombies wherever you are, and you'll earn fantastic bonus credits – so the better you are at taking out zombies, the better your bankroll will look after the bonus round is done and dusted.
In need of even more thrills and chills? Look out for the zombie antidote symbols, and as soon as you find three or more on the reels, you'll instantly be rewarded with 10 free spins. And just to bring even more adrenaline your way, every time you spin and win during your free spins round, you'll have your wins tripled for even bigger payouts!
It might be the end of the world where The Winning Dead is concerned, but it's just the beginning for your potential winning streak. But do you have what it takes to survive? There's only one way to find out – just log on, place your bets, and see just how far scary good slots skills take you!
Happy Spinning 🙂