Get Sprung with Spring Tails!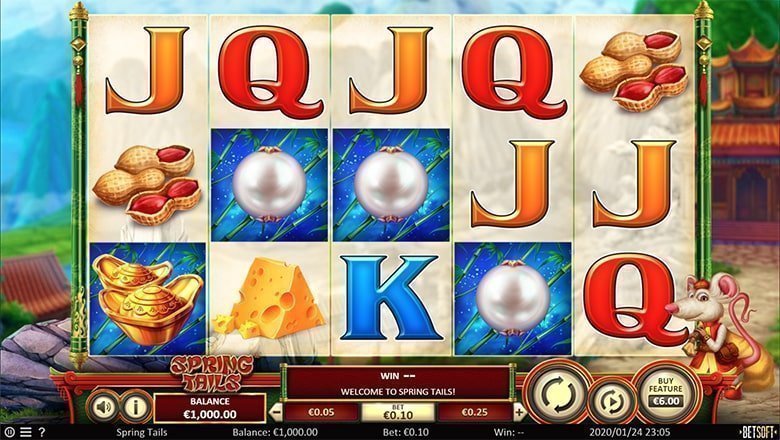 Chinese New Year is always an occasion for celebration, especially where slots games are concerned. This time it's Betsoft who's coming to the party with one of its own new releases – so get ready for Spring Tails, a slot designed to commemorate the Year of the Rat, and hopefully pay out huge jackpots at the same time!
In keeping with its theme, Spring Tails puts the honoured rat front and centre, with a featured lucky rat symbol, as well as gems, pearls, gold bars, a gold key, and even fun rat snacks too, like peanuts and cheese. This is one rat that won't be going hungry!
Speaking of hungry, if you've got an appetite for winning, you'll be able to satisfy it and then some thanks to Spring Tails' 5×5 layout, 60x multipliers, 300,000x top jackpot, and RTP of 95.84%. So what are you waiting for – get those reels spinning and get this New Year off to a winning start!
Look forward to new beginnings and new jackpots
If you follow Chinese astrology at all, you'll know that 2020 isn't just the Year of the Rat, it's the Year of the Metal Rat – and that means new beginnings and new opportunities for finding love and fortune. So if you want to add to your wealth, Spring Tails could be just the way to do it! Make your bets anywhere from $0.05 to $0.50, and if you're lucky, you could make off with the top prize payout of $150,182 – an unbelievable return on investment and a new financial beginning for you for sure!
Something else that could be beginning for you is a lucky streak, which you could hit with the help of the lucky rat wild. Every time you find one on the reels, you'll have a random multiplier added for even more winnings – so the more wilds you have in a combo, the more multipliers you'll have too, potentially all the way up to 60x!
Look out for the scatter as well, in this case the golden key, as one on each of the middle three reels will trigger an amazing 12 free spins for you. As soon as you enter the free spins round, all the low-paying card symbols will disappear from the reels, leaving only the high-value symbols behind, and huge winning opportunities too. Find wilds on the reels during your free spins round and you'll find those random multipliers as well, boosting your winnings even further and bringing even more luck your way.
Remember that in order to come out on top with Spring Tails, it's important to keep an eye on your bankroll and only play with what you can afford to spend – that way you'll find the wealth you're looking for. So play it safe, play responsibly, and most of all, play to have fun. The Year of the Rat is here, and so is Spring Tails, and who knows – with just a few bets and a few spins, this could be just the year of new beginnings you've been waiting for!
Happy Spinning 🙂