Luxury Beach Resorts around the World!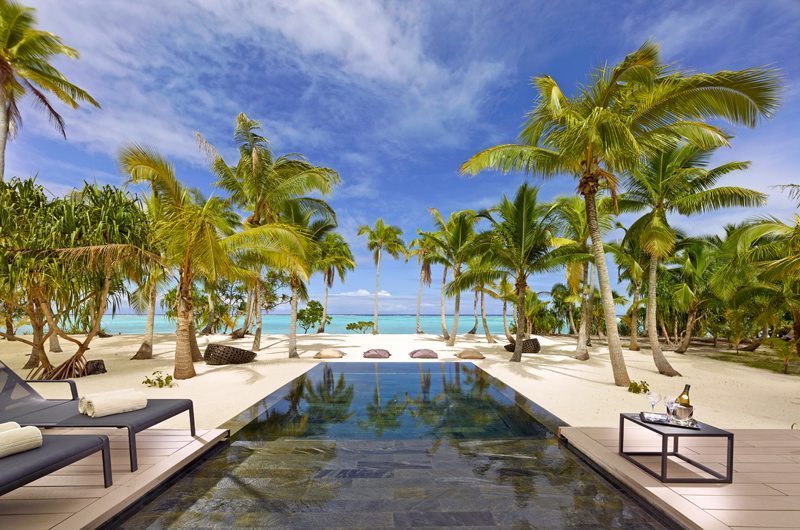 There's just something about the lure of exotic beach resorts – the sun, the sand, the soothing sounds of palm trees in the wind. Not to mention the utter bliss of having your every need catered to by an attentive staff. It's the stuff daydreams are made of! If you're as in love with beach resorts as we are, take a look at some of our favourites from around the world, and start planning your own luxury vacation – once you've won that casino jackpot of course!
The Brando, Tahiti
You pretty much had us at 'Tahiti'. The actual definition of paradise, Tahiti is unsurprisingly on many people's bucket lists of tropical getaways – and The Brando, set on an exclusive private island – is the perfect place to soak up every unforgettable moment.
Established by Hollywood legend Marlon Brando, he of Apocalypse Now and The Godfather fame, The Brando is famous for more than its silver screen pedigree – it's environmentally sustainable as well. Designed to be as eco-sensitive as possible, the resort's thatched villas make use of solar power, seawater air-conditioning, and a host of other renewable energy innovations. So you can enjoy a luxurious vacation, with complete peace of mind about your carbon footprint at the same time.
And what a vacation it promises to be, surrounded by a sparkling three-mile lagoon, and teeming with enough wildlife to satisfy every outdoor enthusiast's fantasy. Bring your snorkelling gear, because the coral reefs are just begging to be explored, with crystal-clear waters to tempt even the most reluctant of swimmers. Not into snorkelling? Try kayaking, diving or paddleboarding instead – there's plenty to keep you occupied and having fun every minute of the day.
Once you've had your fill of the beach, head to your villa for a different kind of relaxation, with interiors crafted from local and recycled materials, flawlessly designed furnishings, and creature comforts like a plunge pool and outdoor bath. Feeling hungry? Sink your teeth into a fusion of flavour with gorgeous fresh produce and an array of local seafood delicacies, all with a blend of French and Polynesian influences. Then once you're done, hop on one of the bicycles available with your villa and burn off some calories on a tour of the island.
If you're looking for luxury with a clear conscience, The Brando is it, set in paradise with every renewable innovation and indulgence you could think of. In fact, why are you still reading this – shouldn't you be booking your stay right now? We know we are!
Atlantis, The Palm, Dubai
Ok, so it's not your typical beach resort – there's still water, but it's unlike anything you've experienced before! A jewel in Dubai's tourism crown, The Atlantis Hotel is the pinnacle of the Palm Jumeriah – the instantly recognisable palm-shaped cluster of man-made isthmuses in the Persian Gulf. Known for its luxurious hotels, nightlife, restaurants, and apartment towers, the Palm Jumeriah is the playground of the rich and famous – and The Atlantis Hotel is its ultimate getaway extravagance.
Let's leave aside the indulgent suites with floor to ceiling windows and five-star luxury inside and out. Instead we want to focus on the most unique feature of The Atlantis – its 11.5 million litre fish tank, the largest open air aquarium in the Middle East. Get that snorkelling gear out, because no matter how experienced you are, this is sure to be a first for you. Think sharks, stingrays, and thousands of other indigenous marine friends, all yours to enjoy on the swim of a lifetime. Even better, if you book a stay in one of the Poseidon or Neptune suites, you'll be able to see into the aquarium right from your room, giving you yet another unique memory to take home with you. Forget about the celebrities you might meet during your stay (because The Atlantis is a favourite haunt of the rich and famous) – this is where the action is!
Banyan Tree Spa Sanctuary Phuket, Thailand
Like your beach resorts a little more on the traditional side? Then Thailand it is – and while it may be a popular choice, it's still a luxurious one. Particularly if you're staying at the Banyan Tree Spa Sanctuary – a luxurious resort with 14 luxurious villas set along Phuket's famed Bang Tao beach.
If it's indulgence you're after, you'll find it and then some, thanks to Banyan Tree's extravagantly furnished living spaces, featuring private pools, a steam room, outdoor and indoor showers, and glass-walled bedrooms that give the illusion of floating above a glorious lily-padded pond. For the ultimate in relaxation, book a treatment for yourself with one of the spa's professional therapists, or try a little Tai Chi or meditation instead.
You'll also enjoy complete seclusion within the gated, secure resort complex – a unique space housing a community of other hotels belonging to the Laguna complex. The best part? You'll be able to visit any of the resort restaurants within the community, giving you a dining experience like no other. It's time to recharge body, mind and soul – Thailand awaits!
Kurumba Maldives
If you're after more of a family getaway than a crowd of friends or a twosome, consider Kurumba Maldives – a resort that caters to both children and adults alike. Choose from a guest room, a bungalow or your own private multi-bedroom villa, and get ready to sink into luxury for the length of your stay.
First things first, make sure the kids are taken care of, either in the two children's pools, or the Majaa Kids Club with an exciting menu of supervised activities for the little ones to enjoy. Once that's organised, it's your time to shine – preferably with a cocktail on one of the poolside loungers, or a shady beachside hammock. Of course if you absolutely HAVE to do something other than chill, there's more than enough in the way of snorkelling and diving to keep you occupied. That or a relaxing spa treatment – it's your choice. Whatever you do decide on though, one thing's for sure – if you're in the Maldives, it'll definitely be a holiday to remember! All we need now is our own casino jackpot, and we'll be on the next flight out to join you.
Happy Spinning to your dream getaway!