Make life luscious with Triple Juicy Drops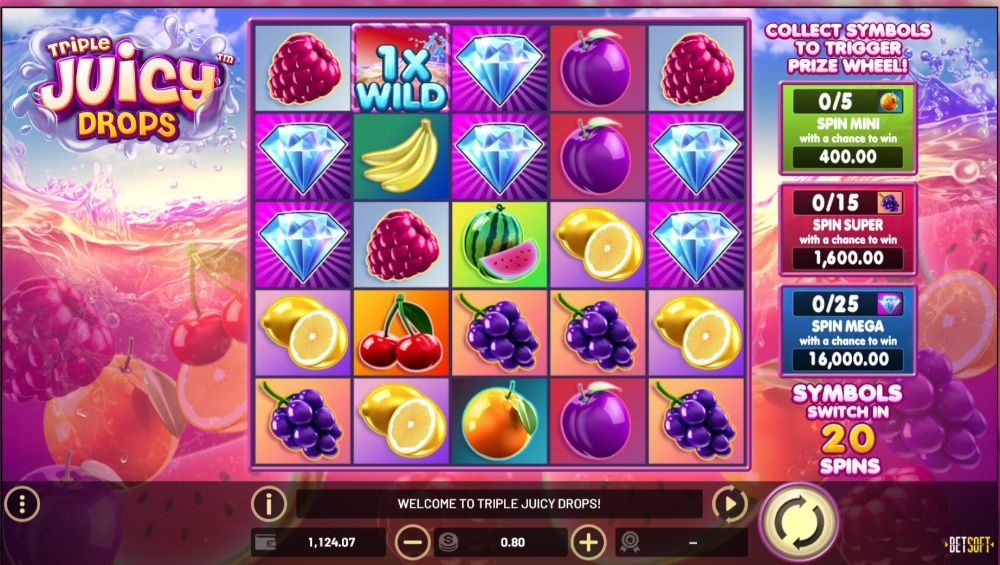 Here's a slot you can sink your teeth into – Triple Juicy Drops from Betsoft! Yes it's about fruit, but it's also about fun and winning too, and that's a concept we can get behind. Plus fruit is delicious, so it's a win-win.
Speaking of winning, Triple Juicy Drops is no ordinary slot – in fact, it's got an amazing 20,534x top payout waiting for you. So even if you're not the biggest fan of fruit, this is definitely a game you'll want a taste of.
When it comes to theme, Triple Juicy Drops is all about tradition, which means you can expect to see reels packed with old favourites like cherries, lemons, oranges, grapes, plums and more – plus high value diamonds for a little extra sparkle. Along with its classic theme, Triple Juicy Drops also makes use of a 5×5 game area, a 95.73% RTP, multipliers, free spins, scatters and spinning prize wheels as well.
Ready to start spinning for succulent payouts? With a minimum bet of $0.30 and a max bet of $22, there's enough range in bet size to suit every bankroll, particularly after an expensive holiday season and a VERY long January.
Once you've got your bet size sorted, it's time to spin and win – which you'll do as soon as you find a combination of 3 to 5 matching symbols anywhere on the reels. Nice and easy, and wonderfully rewarding too! Even better, as soon as you find a winning combo, the matching symbols will instantly disappear to be replaced by more symbols falling down from above. Thanks to the cluster pays mechanism, the more new winning combos you find, the more symbols will continue to drop down, bringing a wealth of opportunities your way. Now that's what we call juicy!
Want a little extra helping hand in forming winning combos? That's where the wild symbols come in, substituting for regular symbols in order to boost your payout potential. Get a combo of 5 symbols and you'll add a wild to your game – plus if you get both a column and a row each filled with 5 matching symbols at the same time, you'll get 2 to 3 wilds with added multipliers too. What's more, if your winning row and column intersect, you'll be rewarded with up to 5 wilds, with a 3x multiplier on each one!
And it doesn't end there either. That's because thanks to the unique Triple Juicy Drops system, you'll be given 3 random symbols to collect in a single spin. Every 20 spins the symbols you need to collect will change, so the sooner you're able to find them, the better. Once you've got them all, you'll be able to trigger one of the game's exhilarating prize wheels – either the Mega, the Super or the Mini. Activate a prize wheel and it'll start spinning for you – plus if you're able to activate more than one at the same time, Triple Juicy Drops could soon be bringing the most mouthwatering winnings your way!
Finally there are the free spins to look forward to, either activated by finding 3 to 5 scatters, or through the prize wheels. With up to 15 free spins to play, depending on the number of scatters found, and multiplier wilds waiting for you, the bonus game could turn out to be a huge money spinner!
You may not like fruit, but we know you'll love Triple Juicy Drops and all its jackpot goodness! Look for this tasty classic at your online casino today and get ready for a gaming session packed with winning flavour!
Happy Spinning 🙂