Top Christmas gifts for Gamblers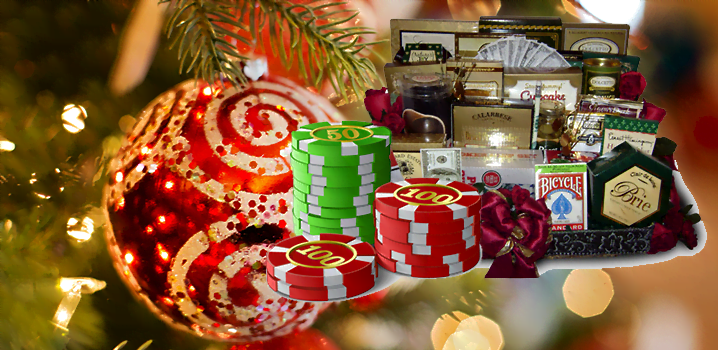 Got a casino fan in the family? Or maybe you like a flutter yourself? Either way, we've got some top gift ideas for you, whether you want to buy something for a loved one, or drop hints for your own Christmas cheer. Happy holidays!
1. Customized playing cards. You aren't a real gambler until you have your very own personalized pack of playing cards – and the best part is, you can tailor-make them any way you like. If you've got a friend who enjoys Poker, Blackjack or Baccarat, get a set of cards made up for them, either with their face or name on, pics of family and friends, or any likes or hobbies they may have. It's quick, relatively inexpensive, and makes for a great stocking filler!
2. A slot machine. How awesome would it be to have your very own slot machine in your home? Very, very awesome indeed! So where do you look? Antique dealers would be your first bet; any online stores or auction sites could also be helpful too. And if you're not wanting to go the whole hog, try looking for a tabletop slot machine instead. These are smaller and handier, and can even sit on an office desk for a bit of fun on a coffee break. Some even come in piggy bank form, keeping the money you lose and letting you use it again at a later date – talk about managing your bankroll responsibly!
3. Custom accessories. Earrings, cufflinks, tie pins, even rings, necklaces and bracelets too. If you know someone who loves gambling, then jewellery and accessories are the way to go. Cufflinks shaped like a pair of dice. Earrings shaped like Roulette wheels. Sparkling hair barrettes adorned with playing cards. A ring with a heart, spade, club or diamond symbol on. The list is endless, and so are the style choices!
4. A Poker set. Or any type of set that allows you to play your favourite casino games at home. Poker sets typically include playing cards and Poker chips, as well as Dealer and Small/Big Blind chips, while Craps sets include dice, a shaker, and table felt with the various bets laid out. Have a look in hobby shops or tobacconists, and see just how much cheer you can add to a loved one's Christmas.
5. A trip to a casino resort. If you're feeling flush and want to include yourself in the gift, why not go all out and splurge on a trip away to a casino resort. Whether it's a night away at a nearby casino, or a full week in Las Vegas, it'll be a trip to remember for both of you. Make sure to include a spending money budget for your casino outing, look into any other extras the resort may have, such as a spa, restaurants, concerts, golf and more, and enjoy a well-deserved Christmas break that'll stand out in your memory for years to come. Have yourself a merry little Christmas – you've earned it!
Happy Spinning 🙂