Uncover treasures from the deep with Max Quest: Dead Man's Cove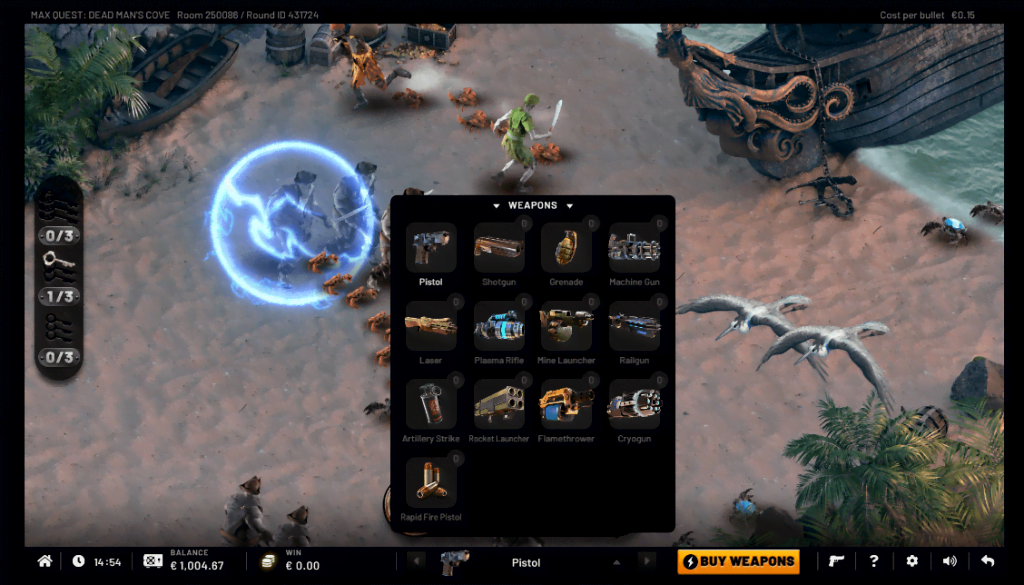 Ready for another adventure? This time it's all about pirates, rather than jungles, with Max Quest: Dead Man's Cove. Get ready for more RPG realness, more excitement, and hopefully more jackpot payouts too! Ahoy!
Just like Mission: Amazon, Dead Man's Cove will also see you battling against various enemies for winning glory, although this time you'll be surrounded by pirates and other ocean monsters. You'll still be playing an RPG-style game, you'll still have various quests to complete, and you'll still be shooting your enemies in order to move forward in the game. And what a game it promises to be!
Choose how much you can afford to spend on your bullets (between $0.02 to $1) and you'll be able to get started. Just like other Max Quest games, you'll be playing in different rooms depending on the cost of your bullets, and you'll have a max payout of 6,000x that you'll be aiming for – all thanks to a super rewarding RTP of 97.50%.
Ready to enter Dead Man's Cove? Then let's go hunt some treasure! Start the game and you'll be going up against enemies that'll appear randomly on the screen. Your job is to shoot them successfully in order to score a payout. Bear in mind though that different enemies will have different hit points (HP) which means it could take more than one bullet to kill them and claim your reward. That's why persistence, and a good aim, are crucial here.
As well as prizes, you're also looking to win special weapons, treasure, and keys too, some of which could help unlock more rewards for you along the way. Keep your eyes peeled for enemies and monsters, keep a steady trigger finger, and Dead Man's Cove could turn out to be a very lucrative place for you indeed!
If you've got a taste for adventure Max Quest-style, then it's time for you to get ready, take aim, and fire! The enemy is approaching and it's up to you to take them down. Will you rise to the challenge and emerge victorious? Join Max Quest and find out just how deep your bravery runs!
Happy Spinning 🙂