More of the world's most expensive movie memorabilia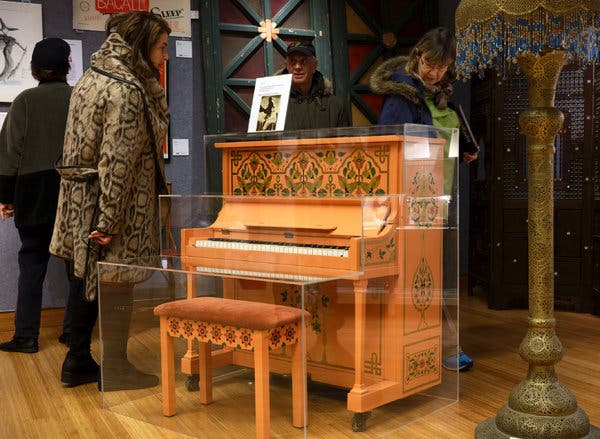 You loved our look at the world's most expensive movie memorabilia so much, we just had to give you another peek at the good stuff! Get ready to geek out at some of these unbelievable entries…
The Casablanca piano
Something you may not know about the movie Casablanca – the legendary line, "Play it again, Sam" is never actually spoken. Instead, it's famously misquoted (as are other iconic movie "quotes", like "Go ahead, make my day" from Dirty Harry).
Something else you may not know about the movie is that its illustrious piano sold at auction for $3.4 million back in 2014 – a fact made all the more unbelievable given that the piano in question was never a world-class piano to begin with. Instead it was a relatively ordinary piano, decorated to fit in with the Moroccan theme of its movie location, with nothing else particularly noteworthy to recommend it. So why its hugely inflated price tag? Because of its place in movie history, that's why, and its inherent worth and sentimental value to movie fans the world over.
So what's the actual movie quote then? Well, while the line we think we know is more part of silver screen legend than anything else, the closest the movie dialogue gets is a line by Ilsa: "Play it, Sam. Play 'As Time Goes By'." And now you know!
The Maltese Falcon
We're really hitting the black and white movies hard this time around! If you're a Humphrey Bogart fan, you probably already knew the piece of movie trivia we just shared above. And if you're a huge Humphrey Bogart fan, then you probably also know that the statue of the Maltese Falcon (from the movie of the same name) made headlines in 2013 when it sold for $4.1 million – one of the most expensive pieces of movie memorabilia ever purchased. Is it the actual Maltese Falcon, or simply one of the many substitutes used throughout the movie? We'll never know, but it makes for a good mystery nonetheless – one worthy of Sam Spade himself!
Aragorn's sword
If you're a fan of all things Tolkien, you know just how valuable props from the movie trilogy can be – especially the one ring itself. That doesn't mean other memorabilia from the film isn't any less lustworthy, as over the years, certain key weapons have fetched huge amounts in auction. We don't know what you would consider a reasonable price if you were to purchase any items yourself, but in 2013, one fan spent $161 000 on Frodo's famed sword Sting, while Gandalf the White's staff went for a hefty $325 000. Topping them both though is the price paid for Aragorn's sword Andúril – a prop that sold for an amazing $437 000 when it was auctioned off in 2014. Definitely one weapon to rule them all!
Luke Skywalker's lightsabre
If you didn't grow up fighting with sticks and making 'whoosh' sounds, were you ever really a Star Wars fan? These days you can actually buy neon lightsabres that make the iconic noise – back in the day, you had to make do with whatever you could lay your hands on. Believe it or not, it was the same for the actual lightsabre used in the original Star Wars trilogy. Instead of the futuristic technology portrayed in the films, Luke Skywalker's lighsabre was in fact made from an old camera flash, with a pole placed where the blade was supposed to be, and then covered in a special paint that the special effects team would later overlay with the famous 'glow'. Hey, when you don't have much of a production budget, you've gotta do what you've gotta do.
Despite its modest craftsmanship, the original Star Wars lightsabres (two or three were made for the films) are hotly sought-after by fans round the world – because anyone can buy a modern lightsabre, but not everyone can own a piece of movie history. So where are the original props today? In fact, two were sold at auction in 2008 and 2017, with the first going for $240 000, and the second going for $450 000. Not bad for an old camera part and a pole, hey?
King Kong
There are few movie scenes more iconic than the image of King Kong atop the Empire State Building, swatting aeroplanes out of the sky like flies. Of course the real King Kong isn't the mammoth gorilla the movies would have us believe – instead it's a 22-inch model covered with rabbit fur that was used to create the scene by way of stop-motion animation. Maybe not quite as impressive, but certainly just as valuable – to movie geeks, that is. Despite the model being kept in storage and having lost most of its fur, the metal frame of the King Kong model still fetched around $200 000 when it was auctioned off in 2009. That's a die-hard fan right there – and a dinner party talking-point for years to come!
Audrey Hepburn's dress
Movie fans love them some dresses – and if there's one famous film dress just as recognisable as that Marilyn Monroe dress, it's the one worn by Audrey Hepburn to Ascot, in the movie My Fair Lady. Designed by Cecil Beaton (who won an Academy Award for his efforts) the Edwardian-style white lace dress with black bow embellishments and matching hat is part of costume design history, and puts all other copies to shame. It seems that fans would agree, as the haute couture costume was sold for $3.7 million in 2011 – a very fair price for a very fair ensemble.
Sure some of these auction prices might seem extravagant – but if you've got the money, then why not use it to indulge one of your greatest passions? That's where a casino jackpot comes in handy, giving you the freedom to live the life you've always wanted. So whether you want to own some of cinema's greatest movie props, race Indy cars, or travel the world, you know what you need to do – log onto your online casino and find out if that multi-million jackpot is in your future!
Happy Spinning 🙂