Most extravagant ways to get fit in 2020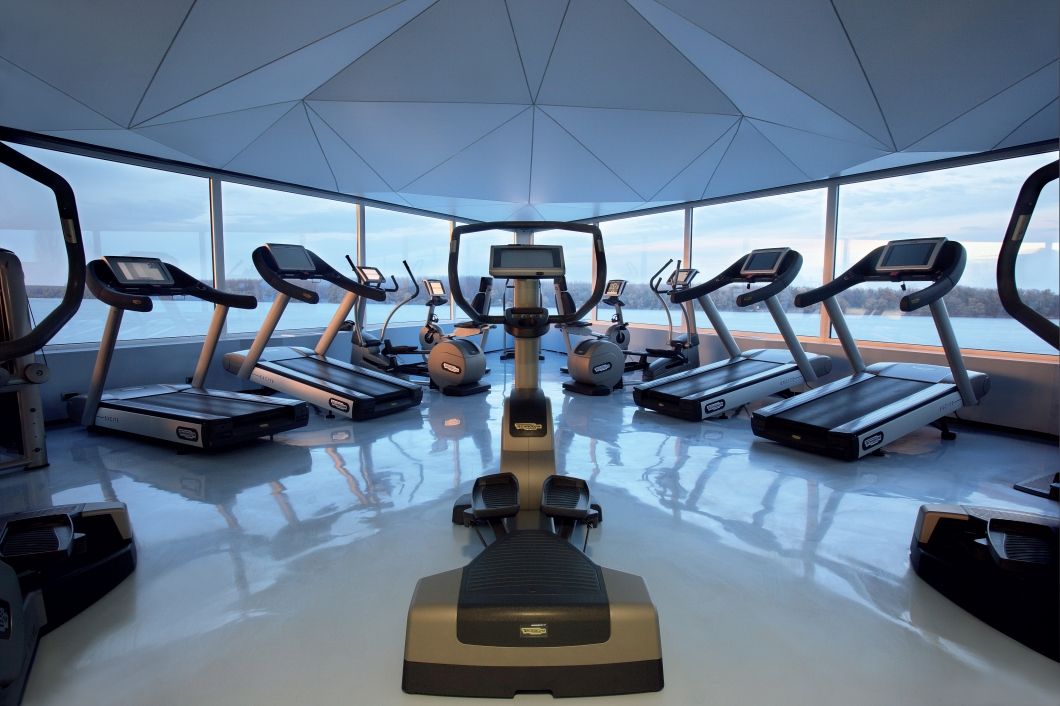 The end of the year is fast approaching, and that means the new year is around the corner. It also means that it's almost time to make New Year's Resolutions again – and if you're anything like us, losing weight is at the top of the list. Usually that means sweating it out at the local gym in old baggy clothes – but what's it like losing weight and getting fit if you're ultra-rich? We decided to take a look at how the upper classes do it, so that when that casino jackpot hits, you're ready to get healthy in the wealthiest way of all!
Exclusive gym memberships
We're not knocking our neighbourhood gym at all, but if we had the money, obviously we'd like to train somewhere super extravagant and full of perks. Having a seven figure bank balance can help to open these exclusive doors – which means if you can afford it, you'll be able to work out at gyms like:
Wellness Sky W, Belgrade, Serbia
What can you get for $30 000 per year? Only entry to one of the world's most luxurious gyms, that's what. Situated on the Belgrade waterfront, Wellness Sky W offers its members an exclusive 'body balance' programme – one that mixes disciplines such as yoga, pilates and tai chi into an innovative workout designed to help you achieve all your body goals. We can't speak to its effectiveness from personal experience, but we'd love to find out what a body sculpted by $30 000 a year actually looks like!
EXOS, Phoenix, Arizona
If you're not so keen on trekking all the way to Serbia, you can go to Phoenix, Arizona instead – although if you go this route, you'll need to be sure that you're on top of your game first. That's because EXOS is designed to train professional athletes, which is where its annual $30 000 membership fees come in. Unfortunately if you're a regular member of the public, you won't be allowed access to the gym (unless you purchase a hugely expensive day pass) but if sport is your life, you'll have full use of facilities like a football field, physical therapy, and even an underwater treadmill too. Honestly, we'd splurge on a day pass just to experience that alone!
E at Equinox, New York City
There's personal attention and then there's E at Equinox, one of the most elite gyms in New York City. For just $2 166 a month, you'll be given the best of personal care and attention, in the form of an exclusive personal trainer, and ongoing instruction and guidance while on the floor. What's more, the gym has all the modern conveniences you'd expect from an exclusive wellness space, like retina scanning upon entry, a regular 3D body scan to track your progress, and the ultimate in five star facilities and benefits. Even better, with only 50 members allowed access, you'll never have to queue for a treadmill again!
Designer workout clothes
What's the point in training at the best places if you don't look your best at the same time? We've found the perfect designer gear for you, guaranteed to help you look your best while you're training to become your best:
Fendi Stripe Yoga Pants – $490
Yes, you read that correctly – $490 for yoga pants. Of course these aren't just any old yoga pants – they're Fendi yoga pants, which is where the eye-watering price tag comes from. What's so special about them? Their unique blend of polyamide and elastane designed for the ultimate in comfort and support, so you can be sure you don't experience any wardrobe malfunctions (always a problem in the squat rack).
Michi Suspension Pocket Legging – $385
"I love your leggings!"
"Thanks, they have pockets!"
Literally every woman's dream conversation, and one that you'll be able to have once you purchase a pair of Michi Suspension Pocket Leggings. With just the right amount of stretch, comfort, and sweat-wicking fabric, along with handy pockets too, these unique leggings are worth every cent of their expensive price tag.
Brunello Cucinelli – £1 450
It's not all about women's workout clothes, so here's something for the guys as well. If you're looking for super soft sweats, try the Brunello Cucinelli brand – although you'll find it described as travel wear, rather than active wear. Whatever you use it for though, you'll love it, as with the softest of cashmere, it'll be your most comfortable and your most luxurious workout wear yet. With a price tag of £1 450 for a sweatshirt, t-shirt and pants, it's way pricier than your usual gear, but one training session in this ensemble and you won't want to leave the gym ever. Which is sort of the point.
Luxury training gear
If you'd prefer to work out at home rather than in a more formal gym setting, you'll still find plenty of luxurious options to explore, most notably (and perhaps, surprisingly) within the Louis Vuitton range:
Dumbbells – $2 650
We're as shocked as you are that one of the world's most exclusive fashion houses would branch out into fitness equipment, but there's no denying the status that Louis Vuitton sports gear would bring. If you're into lifting, now you can do it in style with a pair of Louis Vuitton dumbbells, fashioned from metal and featuring the world-famous LV monogram too. Right now the dumbbells are only available in 3kg weights, but we're sure if there's enough demand they'll extend the range even further. Can everyone afford the unbelievable price of $2 650? No, but that's the point!
Skipping rope – $650
It's not just a skipping rope, it's a Louis Vuitton skipping rope – and you're essentially just paying for the name. If that's important to you though, add this piece of equipment to your home gym and make workout time that much more glamorous. Each skipping rope features the Louis Vuitton monogram, as well as leather-clad grips and a rope, making every jump as fashionable as possible. And after all, isn't that what working out as a wealthy person is all about?
Happy Spinning 🙂