Online progressive slots – which are your best bet?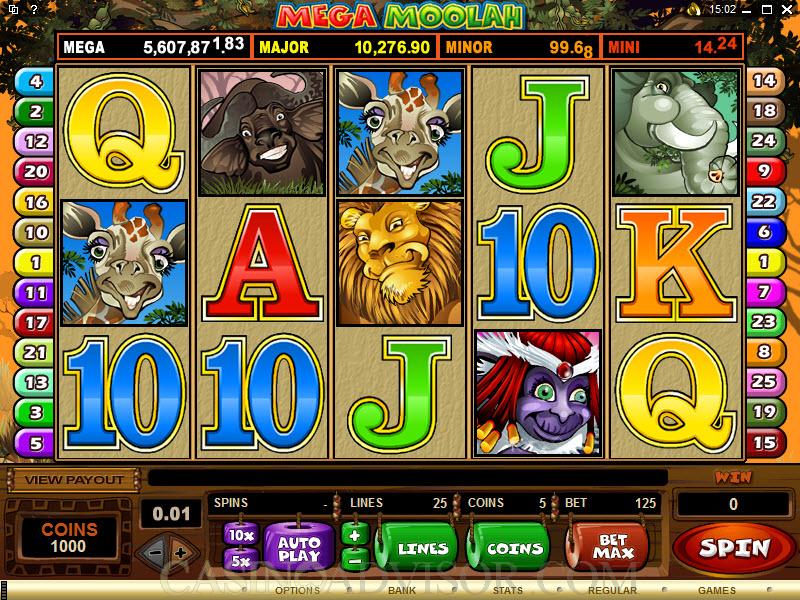 When it comes to online slots winnings, if you're looking for the kind that can change your life in an instant, you're looking for progressive jackpots. Easy to play and packed with six figure payouts, they're your ticket to a life of luxury and complete financial freedom. With so many to choose from though, how do you know the one you've selected will get you to that multi-million moment? Well, while we can't guarantee that a particular slot will definitely pay out, what we can guarantee is hours of fun with our personal recommendations. Take a look and find out just how thrilling progressive play can be!
1. Mega Moolah
One of the hottest progressive slots from Microgaming, Mega Moolah isn't just a casino game – it's a world record holder! Just ask Jon Heywood of the UK, who was on the receiving end of a mammoth €17,879,645 back in 2015. That's not the only time Mega Moolah's paid out big money though – in 2017 alone this 5-reel 25-payline slot turned 12 players into huge winners, paying out a total of €56,665,682 in jackpot cash!
Originally conceived as an African safari-themed slot, Mega Moolah now has another three versions to add to its first iteration, namely an Egyptian, American and a Summer variation too. So no matter what type of slot you enjoy playing, you'll find a Mega Moolah you can connect with – and hopefully win with too! What's more, even if you don't crack the top-paying jackpot, you can still walk away with a very tidy sum thanks to its range of Mini, Minor and Major jackpots on offer as well. So if you're looking for mega money, Mega Moolah could turn out to be hugely rewarding for you!
2. Major Millions
We're staying with Microgaming slots for now, this time with one that's not mega, but major! We're talking about Major Millions of course, one of the gaming provider's best-known and best-loved progressives. Why is Major Million such a drawcard for Microgaming? Probably due to its ease of play, with two simple slots versions to choose from – a 3-reel single payline or a 5-reel 15-payline game, both user-friendly and both wonderfully affordable too.
While Major Millions' jackpot payouts might not be quite as stratospheric as those of Mega Moolah, this military-themed game is still worth a spin and then some, having paid out over €16 million in winnings over the course of 2017. Get five Major Millions logos and you'll instantly join the top jackpot club yourself. Definitely something worth saluting!
3. Beach Life
Think it's only Microgaming that knows how to roll with progressive jackpots? Think again! Playtech is doing just as well with its collection, most notably with Beach Life, a 5-reel 20-payline slot that made at least one winner ecstatic in 2017 with a huge €2,508,098 payout!
If you like sun, sand and surf then you're sure to love all that Beach Life has in store for you, with the sights and sounds of sunny seaside days, and huge sizzling jackpots too! All you have to do is get a Wild Sun symbol on the 20th payline and you'll be in the money – not just for a summer, but for as many seasons as you can make your jackpot last!
4. Mega Fortune Dreams
Not to be left out of the jackpot excitement, NetEnt has its own suite of progressive slots as well, most notably the famed Mega Fortune Dreams. And it's not just a clever name either – because in just 12 months of 2017, Mega Fortune Dreams paid out a mega fortune of over €23 million, making six players' multi-million dreams come true!
If you've always dreamed of living the high life, Mega Fortune Dreams will ease you into it in spectacular style, with a theme based on glitz, glamour and extravagance. Spin the reels with a max bet to put you in line for the ultimate payout, and if you're lucky enough to land it, you'll soon be living your own life of fame, fortune, and millionaire fabulousness!
5. Hall of Gods
Think you can be the god of all jackpot payouts? Then Hall of Gods is the progressive for you, created by NetEnt and responsible for €14,660,851 in jackpot winnings in 2017 alone. Set in the land of Vikings and Norse mythology, Hall of Gods promises heavenly rewards and huge excitement along the way.
Start your adventure with a max bet spin on this 5-reel 20-payline video slot, and make your play for one of the three fantastic jackpots on offer – Mini, Midi and Mega. Of course with a heroic progressive jackpot on offer, it's the Mega option you'll want to play for, but that doesn't mean the Mini or Midi jackpots aren't hugely rewarding too. Spin the reels and see what fate has in store for you – with any luck, huge payouts will be written in your stars, just as they were for the Swedish player who banked an incredible €7.6 million in 2012!
6. CashSplash Slot
Don't mess around – dive straight into jackpot awesomeness with CashSplash, another progressive wonder from Microgaming, with a starting payout of $10 000! Choose from the Classic or Video versions and get the reels rolling towards the payday of a lifetime.
With a clean, simple design, a favourable payout percentage and multipliers galore, CashSplash promises hours of fun and top rewards too, all with a single spin. Get five Wild symbols and you'll be going wild with the ultimate jackpot extravaganza! Forget about splashing into cash – you'll be able to flash your cash and then some!
Ready to hit the jackpot and change your life in an instant? All you have to do is choose a reputable progressive and play according to your budget, and you could soon be in the money. Remember that progressives grow incrementally with every bet placed within their particular gaming network, so the more you and others play, the more the jackpot will ultimately increase. And if you manage to play the right slot at the right time, you could go down in multi-million gaming history!