The World's Most Expensive Drinks: Part 2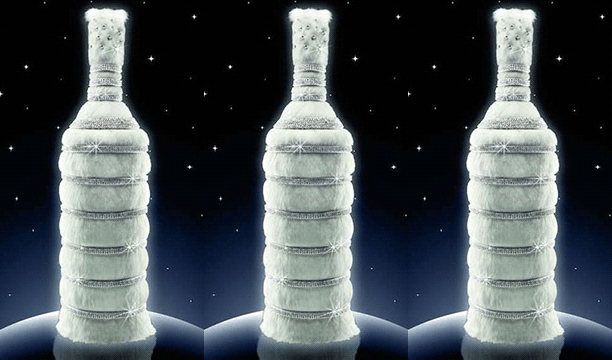 Don't put that glass down yet – there's still more to celebrate! That's because while we may have already given you a breakdown of the world's most expensive drinks, there are plenty more for you to try, taste, and hopefully buy. Once you've laid claim to that online casino jackpot of course…
Billionaire Vodka – $3.7 million
Weird that Billionaire Vodka doesn't actually cost $1 billion, but $3.7 million is still a pretty decent price tag. And by that we mean insanely expensive. What kind of vodka actually commands a price of nearly $4 million? One that's crafted completely by hand of course, and only on special order – not like your usual label available every day after work. Made in micro batches from a top secret Russian recipe, Billionaire Vodka is said to be one of the smoothest blends in the world – and it's one that we'd be willing to taste test, if our services were ever needed.
That's just the vodka itself though. The bottle it comes in is equally noteworthy, big enough to hold a massive five litres of the precious liquid, and studded with 3 000 diamonds and Swarovski crystals for a truly sparkling look and feel. Shine bright like a diamond? If you're Billionaire Vodka, you do that and then some.
Russo-Baltique Vodka – $1.35 million
What else do car manufacturers make besides, well, cars? If they're luxury automobile brand Dartz, they make vodka too. But not just any vodka, Russo-Baltique vodka, a line sold in bottles crafted to resemble vintage luxury cars, each one with a solid gold cap inlaid with diamonds. While you're probably a few zeroes off from cracking one of these open, don't feel bad – with the line originally having been designed for Russian billionaires and royalty, you're not quite the target market. At least, not yet. That casino jackpot is coming…
Mendis Coconut Brandy VS – $1 million
Looking for something a little different? Look in your bank account first for $1 million, because that's what you'll need to buy a bottle of Mendis Coconut Brandy.
But wait. Coconut brandy? Is that even a thing? Turns out, yes – and while it might not be the most common alcoholic beverage out there, it's certainly one of the most innovative. Created from coconuts, rather than the grapes or fruits that most other brandies are distilled from, this brandy is the brainchild of W.M. Mendis, founder of the House of Mendis. And with each bottle numbered and signed by Mendis himself, every one is a collector's item and a talking point besides. Does the brandy taste any good? You'll have to buy a bottle to find out. One thing's for sure though, whatever else Mendis Coconut Brandy may be, one thing it isn't, is ordinary.
Macallan 64-Year-Old in Lalique – $625 000
Want to try one of the world's oldest whiskies? Chances are you won't be able to, as only four were ever made (and one was sold at auction for charity in 2010) – but you could look at that as a challenge, rather than a setback. As one of the oldest single malt whiskies from master distillers The Macallan, this 64-year-old aged whisky is beyond rare, and was originally created to break the record for the most expensive drink ever sold.
While today there are drinks that sell for more, this whisky is still undeniably one of a kind, having been vatted from not one, but three sherry-seasoned Spanish oak casks. And as if that wasn't enough to mark it as standing head and shoulders above the rest, it also comes bottled in an exquisite Lalique hand-cut crystal decanter, each one weighing 25 pounds on its own. Think very carefully about who you pour a measure of this for, as you won't want to waste a drop. In fact, why even share it at all? Keep it to yourself and drink to your own ingenuity and awesomeness.
Dalmore 62 – $215 000
While not quite as pricy as The Macallan 64-Year-Old, at $215 000 a bottle, the Dalmore 62 can still do some serious damage to your bank account. A single-malt whisky, only 12 bottles of the Dalmore 62 were ever created, and each one is shrouded in mystery. No one knows what processes were used to make the liquor so ultra-rare, no one knows where the name comes from, and no one knows who the man was to purchase the last bottle seen in public – at an airport in Singapore. Perhaps they called his flight and he had to rush to make it on time. Here's hoping he bought it in the duty free section…
The Ruby Rose Cocktail – $40 000
From $215 000 down to $40 000 might seem like a bit of a drop, but not when you consider that the price of Dalmore 62 is for a bottle, and the price of the Ruby Rose Cocktail is for a single drink. Yes, just the one. Don't have an aneurysm yet though, as this super pricy cocktail can actually be made at home for far less than $40 000 (although the bartenders at the White Barn Inn might shed a tear at their extravagant creation being put together with supermarket ingredients). They make it with pomegranate and orange juice, rose water, Hangar One Vodka and St. Germain, but we're sure you could find suitable substitutes in your local shop. One thing you might have trouble finding though is the garnish – a four-carat ruby popped on top for a final flourish. That's where the $40 000 price tag comes in, and that's why without a casino jackpot to bankroll you, you'll have to wait for one serious happy hour to afford one.
The Diamond is Forever Martini – $18 000
If you thought this Martini sounded vaguely James Bond-ish, you'd be right. Served at the Ritz-Carlton in Tokyo, this vodka cocktail, created from Grey Goose and lime, would make anyone enter the Secret Service just for a taste. The kicker though? The one-carat diamond garnish that the cocktail is finished off with, justifying its seemingly exorbitant $18 000 price. License to kill? License to spend, more like. We'll drink to that!
The Winston Cocktail – $12 790
For this concoction we travel down under, as there's only one Australian bartender who can make it (and if every cent of the $12 790 tab goes to him, then we're going back to school to study mixology right away!). Known as the Winston Cocktail, and originally created by Salvatore Calabrese, this heady concoction requires an unbelievable two days' advance notice to prepare – so there's no pitching up at the bar and just ordering one on the fly.
But why does it take so long to make? What exactly is in it? Firstly there's cognac – and a very specific one, made in 1858. Then there's champagne, Grand Marnier Quintessence, and, a little unusually, nutmeg dust. But what makes the Winston so unique isn't just its blend of some of the most expensive liquors in the world – it's its set of garnishes, made from pulled sugar and using the very same ingredients found in the drink. The unique end result is one that resembles a structure of blown glass, one that's almost a pity to drink. But at over $12 000 a glass, we recommend that you do drink it, and enjoy every last extravagant sip!
Salvatore's Legacy – $8 316
We mentioned Salvatore Calabrese as the originator of the Winston cocktail – now here's another of his legendary liquid creations, named, appropriately, Salvatore's Legacy. Known as the world's oldest cocktail, given the combined ages of every liquor used, Salvatore's Legacy comes in at an "affordable" (haha) $8 316. But just wait till you hear what's in it. Using four of the world's oldest alcohols, including 1778 Clos de Griffier Vieux Cognac, 1770 Kümmel Liqueur, 1860 Dubb Orange Curaçao, and 19th-century angostura bitters, Salvatore's Legacy is an unbelievable 730 years old – a record-breaking feat in a glass. With bottles dating back to the time of Marie Antoinette, Captain Cook and the American Revolution, every sip is a taste of history – a worthy legacy indeed!
Cuervo Aniversario Anejo Tequila – $3 200
We started our first look at the world's most expensive drinks with tequila, so it's only fitting that we end with tequila too. And while this one may be more than a thousandth of the price of $3.5 million Tequila Ley .925 Pasion Azteca, it's still vastly more expensive than your usual shot of tequila, and vastly superior as well. Which tequila are we referring to? Jose Cuervo of course! But not just any Jose Cuervo – the Jose Cuervo Aniversario Anejo Tequila, a limited edition series aged for three years in American oak barrels, and rested for 10 months in sherry casks from agave – all to achieve its famed 40% alcohol volume, and to make it worth every cent of its $3 200 price tag. Of course you don't have to win a casino jackpot to be able to afford this particular drink, but we wouldn't suggest pulling it out on sports night and pouring shots for everyone in the room. Save it for a special occasion – like hitting the progressive jackpot you've always dreamed of. We'll drink to that!
Happy Spinning 🙂