The World's Most Expensive Food: Part 2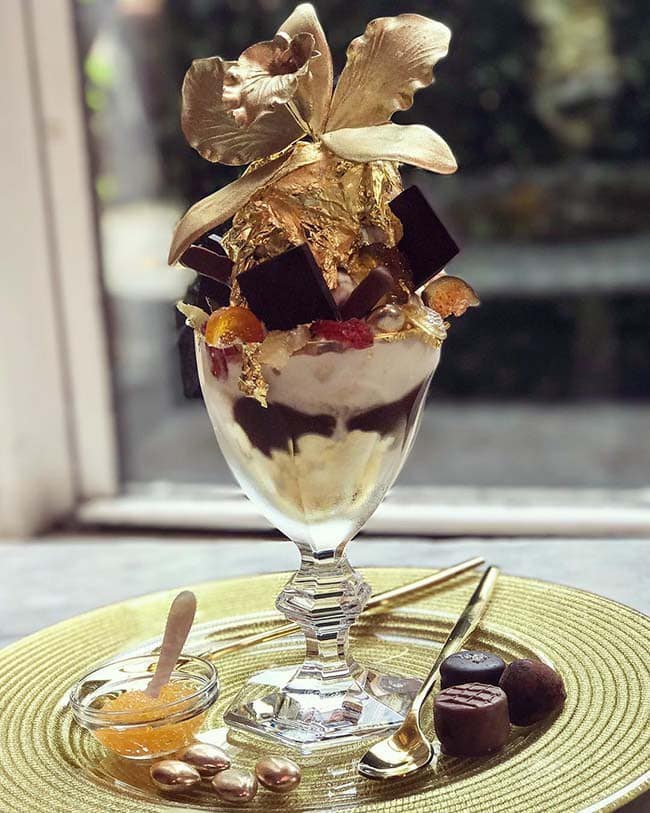 More of the world's most expensive food
You loved our breakdown of the world's most expensive eats so much, we just had to cook up another course for you! Feed your appetite for the extravagant with these gastronomic goodies, and see just how delicious hitting the jackpot can be!
Almas Caviar: $25 000
Well obviously caviar has to be on the list – you can't talk high-priced delicacies without talking caviar at some point. Of course, this isn't just any old caviar though – this is Almas caviar all the way from Iran. One of the world's rarest and most expensive caviars, Almas is the product of Iranian sturgeons between 60 and 100 years old, and is found in just one store – the Caviar House & Prunier, in Piccadilly, London. Since it's illegal to import Almas caviar into the US, if you're outside the UK you'll just have to make the trip to pick up a tin in person. But make sure you've been to the ATM first, as Almas caviar doesn't come cheap, with even its packaging crafted from 24-karat gold. One kilo of Almas will set you back an eye-watering $25 000, while a smaller tin will cost you a "more affordable" $1 250. At that price, best you savour every last bite!
Golden Opulence Sundae: $1 000
Ice cream, nuts, chocolate sauce, cherries – who doesn't love a traditional ice cream sundae? Trust Serendipity 3, New York City's famed dessert palace, to kick this classic into high gear. Forget your normal everyday vanilla – this ice cream sundae is crafted from three scoops of delectable Tahitian vanilla bean ice cream, liberally topped with edible gold leaf, then finished off with Grand Passion dessert caviar and Parisian candles too. The cherry on top? The $1 000 charge of course – which, if you have an online casino jackpot in your back pocket, is cheap at the price!
Ayam Cemani Black Chicken: $200
Chicken? How can plain old chicken be extravagant? And doesn't everything taste like it already? Ah, but this is no ordinary barnyard or Southern fried chicken. This is Ayam Cemani black chicken, a breed native to Indonesia, and so sought-after that just one chicken costs an almost outrageous $200. Why? Because of the bird's extraordinary appearance – pure black from top to bottom, and not just on the outside, but on the inside too. Add to this its reputation for bringing good fortune, and for being a cure for certain illnesses, and it's no wonder the Ayam Cemani commands such a high price. All you need now is a fabulous way to cook it – because after you've spent $200 on one, your normal Sunday roast just isn't going to cut it.
Lindeth Howe pudding: $34 000
You might think of yourself as a dessert connoisseur, but you haven't truly tasted heaven until you've had a bite of a Lindeth Howe pudding – a masterful creation from the mind of head chef Marc Guilbert at the Lindeth Howe Country Hotel in England.
What makes this pudding so perfect? First and foremost its ingredients – Belgian chocolate of the highest quality, with hints of orange, peach and whisky too. Then there's its use of delicate champagne caviar, gold leaf, and (wait for it) a genuine 2-carat diamond. Although we don't think you're meant to eat the diamond. And lastly there's its presentation – served in an edible Faberge egg replica. Just in case you thought it wasn't extra enough to start off with. So, how much does this gastronomic tour de force cost? Only $34 000 – super economical, don't you think? Start getting those wagers in because you'll definitely need a casino jackpot to help you settle this bill!
Guinness World Record 24K Pizza: $2 000
Who doesn't love pizza – and takeaway pizza at that? Just dial up your favourite pizza joint, place your order, and you'll have gooey cheesy awesomeness delivered to your door in 30 minutes or less. Now, if you're a jackpot winner, you can enjoy exactly the same pizza yumminess, although perhaps on a slightly different level. That's because if you've got a craving for pizza and money to burn, there's only one number to dial and one pizza to ask for – the Guinness World Record 24K pizza from Industry Kitchen!
Of course, you won't be able to get this order in 30 minutes or less. That's because this is no ordinary pizza, which means no ordinary waiting time. Instead, the kitchen will need at least 48 hours to prep – because each Guinness World Record 24K pizza comes topped with Stilton, foie gras, caviar, truffles and 24-karat gold leaf (hence the name), all for a super affordable (ahem) $2 000. And if that's not gourmet enough for you, just add 1.5 ounces of Almas caviar to your pizza, and $700 to the price as well. All we ask is that you have enough on hand to leave a good tip when you finally get your supercharged gourmet pizza. Nobody wants to be that guy.
Black Diamond Ice Cream: $816
Still hungry for ice cream? Then why not go all out with a spoon or two of Black Diamond ice cream, freshly scooped and made into a sundae at Scoopi in Dubai. For just $816, you'll have a delectable mountain of Madagascar vanilla bean ice cream, saffron, truffles, 23-karat gold flakes and gold powder to indulge in – and when you're done, you'll get to keep the gold bowl and the silver spoon it comes with. Anyone for seconds?
777 Burger: $777
How expensive can a burger really get? After all it's just a bun with a burger patty and some fixings right? Well if you're in Vegas and you're sitting down at Le Burger Brasserie, you can look forward to a bill of $777 for your appropriately named 777 Burger – and what a burger it is! Firstly you'll have the choice of sesame seed, caramelised onion, parmesan cheese or oven-dried tomato ciabatta bun, and then you'll top it with the most scrumptious surf and turf combination ever – melt-in-your-mouth Kobe beef and premium quality Maine lobster. Then there are the 'extras', and yes, they're just as extra as you could imagine – foie gras, rocket, goat's cheese, pancetta, and a splash of 100-year-old aged balsamic vinegar to finish it off. Add a bottle of Dom Perignon Rose Champagne to wash it all down with, and your overly expensive, overly indulgent burger is served!
We don't know about you, but we're getting hungry just thinking about all these yummy treats! If you are too, you know what to do – get to your casino, get playing for a jackpot, and get ordering one or all of these for yourself!