The World's most Expensive Furniture: Part 1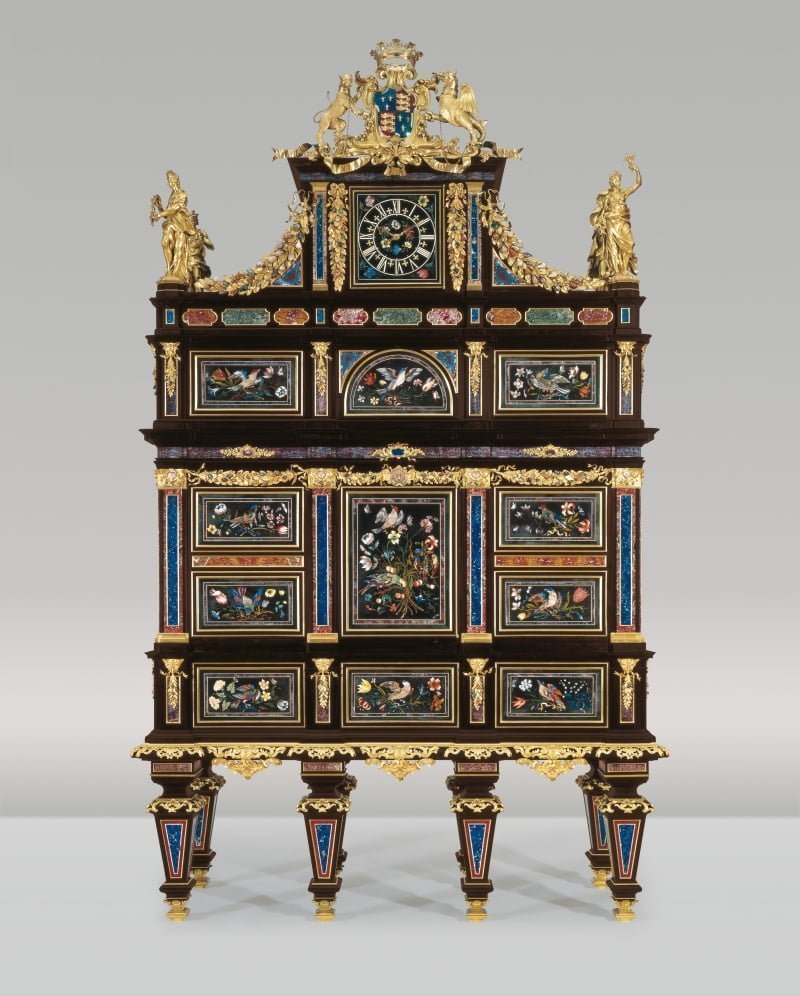 Winning an online casino lottery and buying a new house is one thing – furnishing it is quite another. Obviously if you've just dropped a few million on a brand-new mansion or beachside villa, you'll want to fill it with décor that's just as fancy. But where do you start? How about with some of the world's most expensive pieces of furniture…
The Badminton Chest – $36.7 million
Ok so this might be a little over the top, especially considering that this piece is so extravagant it even has its own Wikipedia page – but as the most expensive piece of furniture ever sold, we just had to mention it. Commissioned by Henry Somerset, the 3rd Duke of Beaufort, and named for his seat of power, Badminton House in Gloucestershire, the Badminton chest is a piece six years in the making – one closer to art than actual furniture. Standing 12 feet tall and crafted from ebony, the chest is studded with semi-precious stones, including amethyst quartz and more – a true showpiece for any designer home. Of course it's actually too 'good' to hold anything that a normal chest should, so maybe have a regular one for all your odds and ends, and keep this one on display for pure compliments alone!
The Dragons Chair (Fauteuil aux Dragons) – $28 million
Believe it or not, we've actually mentioned this piece before, in our look at the most expensive items ever auctioned. However, being valued at $28 million, the Dragons Chair is definitely worth a second mention. Designed by Irish artist Eileen Gray between 1917 and 1919, the chair was created as a tribute to one of Gray's lovers, and later became part of a collection owned by Yves Saint Laurent and Pierre Bergé. Crafted from leather and wood, the chair was expected to fetch $2.3 million when auctioned by Christie's in 2009 – however its prospective buyer ended up bidding more than ten times its original price tag, making it one of the most expensive pieces of furniture ever sold. We usually ask for a discount when buying something, so paying ten times the price is an interesting strategy – one definitely for the record books!
Antique Secretary Desk – $11.4 million
Looking for a statement piece for your home? Then why not try a Goddard and Townsend secretary desk – perfect for your home office. Designed and crafted in the 1760s, only nine of these secretary desks were ever crafted, making them not just rare but immensely sought-after as well. And of course when it comes to price, they're not your ordinary desk either, as one recently went under the hammer at Christie's for the whopping price of $11.4 million. Maybe buy a less expensive one for your office and cover this one in bubble wrap instead – got to protect that investment!
The Harrington Commode – $5 million
Making headlines when it was sold by Sotheby's for over $5 million in 2010, the Harrington Commode is an ornate piece of 18th-century furniture designed by none other than Thomas Chippendale himself – a fact that no doubt lent itself to the generous price tag. While you might not be super into the idea of spending over $5 million on what amounts to a fancy chest of drawers, there's no doubt that the Harrington Commode is a talking point, and a hugely extravagant one at that. So it all depends – are you looking for form, function, or a way to impress people at parties? If it's all three, then $5 million is cheap at the price!
The Tufft Table – $4.6 million
We are very into tables with names on this list, and the Tufft Table is no exception. Titled for its 17th-century craftsman, Thomas Tufft, the table was originally designed for store owner Richard Edwards of Lumberton, New Jersey. Clearly business was booming at the time. Carved entirely by hand and featuring lavish rococo-style decorations, such as pierced fretwork, narrowing legs and ball-and-claw feet, today the table is recognised as a piece of master craftsmanship – no doubt the reason for its massive $4.6 million price tag at auction. No feet are going up on this table, that's for sure!
Ruijssenaars Magnetic Floating Bed – $1.6 million
Enough with tables and cabinets for now – how about a bed instead? And a floating one at that! Designed by Dutch architect Janjaap Ruijssenaar, the magnetic floating bed is a masterpiece of innovation and execution, one that literally takes sleeping to the next level. By using the magnetic force of repulsion, the bed is able to levitate 40cm above the ground, and support loads of up to 900 kilograms – so there's no need to worry about overindulging at dinner time. A design concept six years in the making, the magnetic floating bed is a marvel of modern thinking and technology, and one that's guaranteed to make your bedroom stand apart from the rest. So if you've got the $1.6 million to buy one, you've got a way to have the most interesting night's sleep ever. Sweet dreams!
Pininfarina's Aresline Xten Office Chair – $1.5 million
Think office furniture can't be expensive? Think again! While buying a chair down at your local furniture store might be no big deal, if you're furnishing your home office with a piece from the companies that manufacture Cadillacs and Ferraris, you can expect to pay a little more than usual. And by a little, we mean a lot. Introducing the Xten office chair by Italian car design company Pininfarina – a miracle in ergonomic technology and a hugely stylish one at that. Sit down and the chair will immediately mould itself to your shape, thanks to the innovative Technogel in its cushions, themselves designed from premium, durable Dynatec fabric, the same type used by Olympic athletes. And if you're worried about lower back issues, the chair's Dynamic Synchronized Tilting system gives you the freedom to fully customise and adapt the chair to your preferred angles, allowing you to do business as comfortably as possible. This isn't just a piece of office furniture – it could be your new best friend! All you'll need is an online casino jackpot to help you pay the $1.5 million price tag, and it's you and your Xten office chair, together till the end!
Happy Spinning 🙂